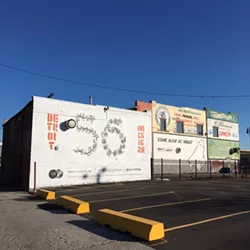 If you've visited Corktown recently you might have noticed a billboard advertising that a project named "Concept56" is hiring.
According to a press release, the Jägermeister-sponsored project is seeking a team of five creatives to work on throwing a unique event in Detroit. The creatives will have access to an office space, mentors, and six months to conceive and produce their project. According to the application form, chosen creatives will be paid "a fitting salary; participate in inspiration sessions and trips, be part of an unforgettable experience, and of course create the event of a lifetime for Detroit."
Applications are due Jan. 30. The positions available include project manager, copywriter, graphic designer, marketer, and event manager. Applicants must be available at least three days per week beginning in February. The initial
application form
doesn't seem to concern itself so much with qualifications or specific proposals, instead gauging applicants by asking them about how they feel about certain Detroit neighborhoods and their favorite Coney. Hopefuls will be asked to make their case for why they should be on the team in an in-person interview.
"We're looking for talented and creative individuals," says Julian Spradlin, a "local tastemaker" according to a press release. "Most importantly we're looking for those who will represent an authentic side of Detroit whether they have experience in an agency setting or not. "
The project strikes us as similar to sponsored projects we've seen by the likes of the
Red Bull House of Art.
After originally launching in Amsterdam, the Detroit iteration of Concept56 is the first in the U.S.
Learn more about the project or apply
here
.