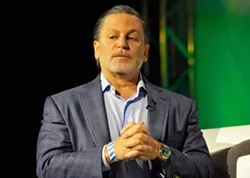 Last week a federal judge tossed a lawsuit filed by Dan Gilbert's Quicken Loans against the Department of Justice.
The recently-dismissed suit was filed last April days before the DOJ sued Quicken Loans for allegedly "improperly originating and underwriting mortgages insured by the Federal Housing Administration." A week before the DOJ's suit Quicken proactively filed its own lawsuit that accused the federal government of essentially trying to shake down the mortgage lender in a settlement.
"After three years of struggling to understand the DOJ's position and methodology that would warrant the country's largest and highest quality FHA lender to make untrue admissions and pay an inexplicable penalty or face public legal action, it is time to ask the court to intervene," Quicken Loans CEO Bill Emerson said in a statement following the April suit. "No threat, including high-profile senseless lawsuits from powerful federal officials, will deter our company and its leadership from doing the right thing. We will stand in defense of our impeccable reputation established by thousands of hard-working ethical team members over our 30-year history."
Well, a federal judge didn't exactly buy it. In May many news sites reported that Quicken Loans "won" the first round of the battle with the DOJ when a judge ruled that the suit filed by Quicken would be heard first. Well, this is not exactly happening. Last Thursday Detroit Judge Mark Goldsmith sided with the DOJ and granted the department's motion to dismiss the Quicken suit. In doing so, Goldsmith also shutdown the Gilbert organization's goal of having the first case heard in Detroit court versus the DC one it is set for under the DOJ's initial suit.
The reason to dismiss Quicken's suit and keep the litigation in DC was addressed in Judge Goldsmith's 24-page decision, in which he wrote: "Given the procedural posture in this case, it certainly appears as though Quicken's complaint was filed for the purpose of acquiring a favorable forum. Quicken filed its lawsuit less than a week before the looming (government) enforcement action was filed."
According to the DOJ's lawsuit the U.S. Housing and Urban Development (HUD) agency lost "millions of dollars" because Quicken Loans violated underwriting rules — specifically the 69-page complaint pointed out that since 2007 HUD has paid over $500 million in claims on almost 4,000 mortgages "endorsed by Quicken." As the Metro Times
pointed out
last April, it is unclear how many of those claims were tied to improper underwriting; however, that number is just a small portion of the total damages according to the DOJ. When the complaint was written over 8,000 mortgage loans that had been underwritten by Quicken between September 2007 and April 2015 were at least 60 days delinquent — a fact that the DOJ opined could mean more claims down the pipeline.
While Quicken says the DOJ claims are ridiculous — "The real victims in this unjust claim are the millions of middle class American families who rely on FHA financing to reach their goal of affordable home ownership," a company statement from April proclaimed — the department is not budging in its claims that Quicken knowingly submitted hundreds of improperly underwritten loans between September 2007 and December 2011 by either pushing appraisers for higher home values or by allowing employees to ask managers for exceptions to break FHA rules.
Beyond this the original suit against Quicken detailed just blatant carelessness. One particularly paradigmatic and pernicious example from the complaint is a case where a borrower asked for refund on her $400 mortgage application fee. Why? So that she could feed for family. Instead of this raising red flags, the incident went essentially undocumented. The woman was approved. She eventually defaulted after five payments. HUD, according to the complaint, paid almost $95,000 in a claim related to this borrower.
We imagine all of this, and more, will unfold when the case is eventually heard in DC (Quicken CEO Bill Emerson is still trying to get the DOJ case litigated in Detroit — he told the
Free Press
last week "the place where our loans are originated and every person expected to testify for Quicken Loans is located." — but that's looking unlikely.) In the meantime freshen up on all the drama by reading the original DOJ complaint
here
.