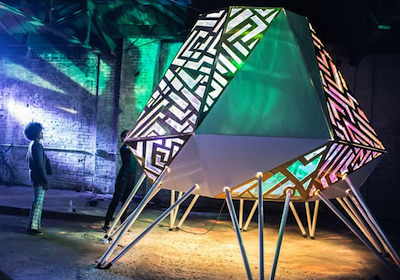 It's no biggie, just one person's opinion, really. But it's the kind of upbeat news that makes us happy on a Tuesday afternoon.
Some website somewhere named Detroit as one of the 15 most influential art cities of 2015
. You'll have to scroll way down to see it. (Nope, Detroit isn't anywhere near No. 1 ... it squeaks in at No. 15.)
What makes us influential? We suppose the writer could have zeroed in on Detroit's homegrown talent, people like George N'Namdi, Tyree Guyton, Bob Sestok, Olayami Dabls, and so many others. But since this blurb was clearly a quickie aimed at the international art jet set, it focuses on the coastal players trying to make a space in the Motor City. Galapagos gets a mention, as does their effort to organize Detroit's first "biennial" this coming year.
Anyway, it's a neat little blurb that's probably shorter than this post. But the best part was the moniker they chose for Detroit: "America's Berlin." Very clever indeed.