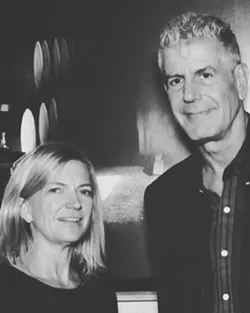 Fans of celeb chef/author/TV host Anthony Bourdain have always known about his anti-brand partnership ethos, his refusal to sellout in the name of slinging a product. But for the first time in his 30 plus-year career, he's dropped the renegade attitude just enough to serve as the face of The Balvenie, a Scotch brand run by family-owned William Grant & Sons.
In doing so, Bourdain and the Balvenie team have created a video series, Raw Craft, in which he travels the country to meet craftsmen and women at work. As part of the 2015 Rare Craft Collection tour, Bourdain tapped Megan O'Connell, founder of the Eastern Market letterpress studio, Salt & Cedar, praising her for her commitment to making things the old-school way in Detroit - a city that Bourdain has had a love affair with for years.
"Much, if not most, of what makes America great came from or through Detroit," Bourdain said in a trailer for the printing studio's episode. "When I see an operation like Salt & Cedar, in a place like Detroit, I just sort of hold my breath like it's a high wire act and I want them to make it all the way."
O'Connell has spent the last few months, along with four other makers from across the U.S. and one from Scotland, creating images of whisky barley, printed on vintage Detroit paper for crowds in New York, Houston and Chicago, using her 1880s printing press. She tells us that the art form may be considered "slow and stupid" in the post-industrial era, but there's something almost meditative to coming into contact - both with the public, and with a tangible, handmade product - that keeps her doing what she does.
We first came into contact with Salt & Cedar over the summer, when the space was transformed into a venue for a private dinner party, in which Standby co-partners Brendon Edwards and Joe Robinson were previewing their upcoming menu. We were told at the time that when stationery, books, posters, and other printed materials are not being produced, Salt & Cedar holds workshops for the public, and has been known to open the place up for similar popups and other unconventional events, utilizing finished and in-progress printing works as a backdrop for a unique dining experience.
Handcrafted printing, working with family, and a passion for food and drink, all in the city of Detroit - indeed a winning combination to fetch praise from Bourdain.
O'Connell shared with us the letter she received from Bourdain. You can view his commendation for yourself below.