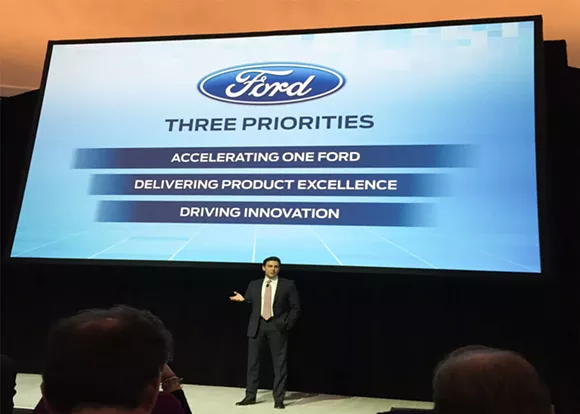 Ford Motor Company announced Thursday an additional $4.5 billion investment in electrified vehicle solutions by 2020 during a news conference at the Ford Design Showroom in Dearborn. In efforts to be a game changer in the automotive industry, the company says it will be focusing more on the customer experience rather than just vehicle performance.
Ford CEO Mark Fields called it the company's "biggest ever electrical vehicle investment in a five-year period," and says the company will be adding 13 new electrified vehicles to its product portfolio by 2020. "When we do that, more than 40 percent of our nameplates globally will be electrified by the end of decade," he says. "That's up significantly from the very healthy 13 percent today."
A part of that product portfolio next year, will be the new Focus Electric, which features a DC fast-charge capability, allowing an 80 percent charge in an estimated 30 minutes with a projected 100-mile range. Ford's shift to add more to electrified vehicle solutions is hoping to charge up consumers to go further. The company believes the investment will be an answer to increasing global trends calling for more eco-friendly and efficient forms of transportation.
---
Taylor Bembery is an intern at
Metro Times.