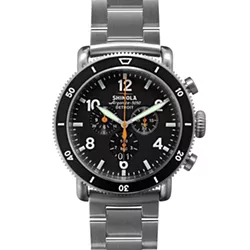 Despite recent Federal Trade Commission scrutiny on what it regards to be misleading "Made in America" claims, luxury goods maker Shinola says it will keep its "Built in Detroit" slogan, the
Detroit Free Press
reports
.
The FTC, which polices the use of the phrase "Made in the USA" in marketing, requires such products to be "all or virtually all" made in the U.S. The agency recently opened an investigation into Kansas City-based Niall Luxury Goods, which imports its watches' movements from Switzerland. Shinola
is open about the fact
that it sources components for its luxury watches and leather goods from outside of Detroit — and in some instances, outside of the U.S.
The
Free Press
asked if Shinola would consider changing its branding following the crackdown. The company defended the "Built in Detroit" branding in a statement:
"We believe that 'Built in Detroit' accurately reflects what we are doing here and believe wholeheartedly that anybody who would come to our factory and witness our process, would think so too," said a written statement released by the company. "Shinola's mission has been, and will continue to be a job creation vehicle as opposed to a company whose mission is about the technical fine points that are necessary in describing our products as 'Made in America.'"
But an FTC spokeswoman told the
Free Press
via email that "Built in Detroit" could still be construed as misleading:
"It seems likely — without consumer perception evidence showing otherwise — that consumers would interpret a 'Built in' claim as equivalent to a 'Made in' claim, and a 'Built in [insert name of U.S. city]' as equivalent to a 'Made in USA" claim.'
As the
Free Press
notes, companies that repeatedly make false Made in USA claims can face FTC fines. Shinola also uses the slogan "Where American is made" prominently on its website.