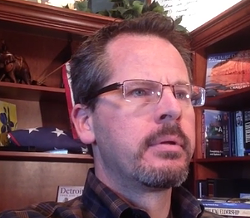 On Sunday, the
Detroit News
reported that the Lapeer County prosecutor would not to charge the person sending anonymous text messages threatening to expose
the extramarital affair
between former state Rep. Cindy Gamrat and former Rep. Todd Courser.
That would be one Joe Gamrat, the husband of Cindy Gamrat.
Previously, Courser had characterized the anonymous texts as part of an "extortion plot" driven by his political adversaries.
Lapeer County Prosecutor Tim Turkelson told the
News
on Sunday that he would not charge Gamrat, saying, "The motivation behind the text messages sent from the individuals was to assist Joe Gamrat in ending the extramarital affair. The messages therefore do not rise to the level of criminal extortion."
In a statement, Turkelson added, "None of the individuals involved in this matter come to the table with clean hands. All bear some responsibility in creating this embarrassing and costly chapter in our county's history."
Nevertheless, Courser maintains that there was a politically driven plot against him. On Sunday, Courser attempted to pre-empt the
Detroit News
' story by releasing his own version of events.
Communication has never been Courser's strong suit — we've
noted his tendency
for odd, rambling essays before. And this whole saga started when his former aide secretly recorded
his ill-conceived plot
to throw his enemies off the the trail with a phony gay scandal (it's OK, we still don't get what Courser meant by his plan to "inoculate the herd" either).
So perhaps its fitting that Courser chose to defend himself in a rambling, 10-minute YouTube video.
"Most reporters are not investigative reporters. They're bloggers, and they certainly didn't show the other side of this. They obviously just wanted to vilify me, and it fit their narrative, and their paradigm," Courser says in the video. "They wanted to say that these guys who were credible sources — no one questioned why he was taping that night, or why he was taping the other incidents and what went on. They just wanted to go with the idea that these guys were poor put-upon employees."
OK then. Without further ado, here's Courser on Courser:
For more Courser and Gamrat, check out
this week's cover story
, which takes a look at how gerrymandering has helped put them and other ill-qualified representatives in office.