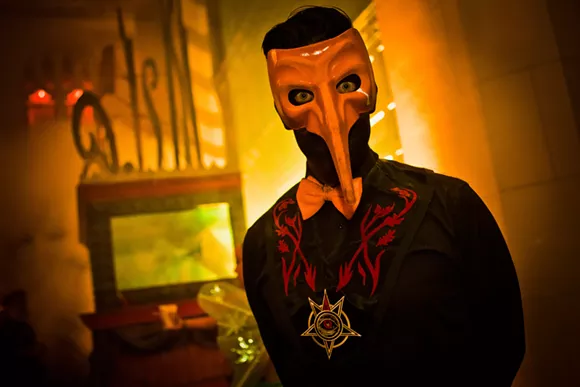 In its 15-year history, Detroit's Theatre Bizarre Halloween event has grown by leaps and bounds. What started as an offbeat (and illicit) party just south of Detroit's Michigan State Fairgrounds has gone on to become an annual event with its own worldwide cult following, and a new home at the Masonic Temple.
Today, the event is an elaborate production featuring musical performances, burlesque, fire-breathers, acrobats, and more. Tickets for a black tie gala on Friday fetch for $250 each, while tickets for Saturday's main event go for $85. Thousands attend, and both nights are already sold out.
One might think that John Dunivant, Theatre Bizarre's main mastermind, is laughing all the way to the bank.
He says he's not.
"Essentially it's putting me in debt every year," Dunivant says by phone while taking a break from a preparations for this year's event — an effort that involves more than a hundred crew members working around the clock.
Part of the reason is a desire by Dunivant and his crew to keep Theatre Bizarre truly independent. Dunivant says he's proud of the fact that the event is free of corporate sponsors — there are no logos to disrupt the world they've created. "We're a bunch of artists. We don't have any business skills," Dunivant says. "All the advice that we're given, we just fly in the face of because we want to maintain the integrity of all of it and break new ground and do something that no one else has ever done before."
But another reason is the fact that the Masonic Temple — while awe-inspiring, and a fitting backdrop for Theatre Bizarre's occult masquerade theme — is a logistical challenge. Theatre Bizarre's intricate stages, dioramas, and other architectural features have to be built elsewhere and reassembled onsite. The historic building can't be drilled into or otherwise modified. And the electrical is so old that Dunivant reckons they would probably fry it if they used the building's outlets — so thousands of feet of cables have to be re-routed through the buildings vents and back hallways.
It's a lot of work for a two-day payoff.
"If it could become sustainable, I would want it to go on forever," Dunivant says. "The opportunity to build something this size and to bring this world to life is amazing. But it's going to kill us."
Next year, Dunivant says the plan is to try to expand Theatre Bizarre into a two-weekend event — but it's a gamble. "If we don't sell out both weekends, the financial hit we'll take from it — we'll be done," he says. "It will be our last year. It's just the reality of the experiment. Sometimes experiments don't go the way you want them to, unfortunately."
For Dunivant — and the rest of the event's crew, performers, artists, and more — Theatre Bizarre is the quintessential labor of love. (Dunivant has even been sleeping at the Masonic Temple during construction.)
Despite the challenges, it's that passion that has kept the event alive so far. "Even people we've never met come to the party and then show up to help the next year because they want to be a part of it," Dunivant says. "It's bigger than all of us in a lot of ways. We've only been able to get this far because people are passionate and believe in us."
Starts at 6:30 p.m. on Saturday, Oct. 17; 500 Temple St., Detroit; theatrebizarre.com; 21 and older; sold out.