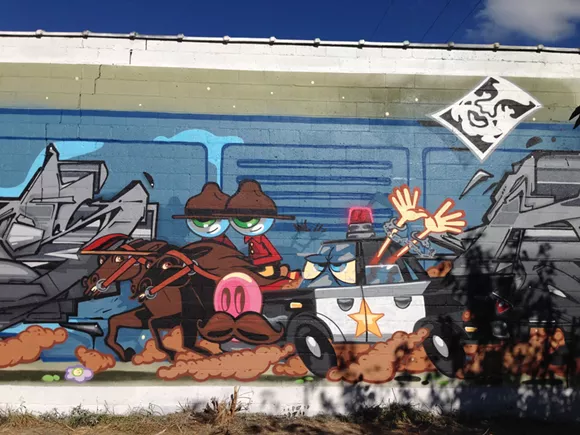 This weekend, 1xRUN wrapped up its first ever
international mural festival
in Detroit, a 10-day affair that brought in street artists from Detroit and beyond to create more than 45 colorful murals in and around the Eastern Market district.
"If you search hashtag 'Eastern Market' right now, there's not a lick of food," says 1xRUN co-founder Jesse Cory as he gives us a driving tour of the murals on Thursday.
Coordinating cherry-pickers and other supplies for the artists posed its own set of challenges, as well as inclement weather early in the festival, but Cory says that 1xRUN has experience from participating in other mural festivals around the world. "Since we've gone to so many of them, we understand [what works]," he says.
Cory says it also helps that many members of 1xRUN's team, who served as wall managers, are artists themselves. "They do a tremendous job, and it's because they understand the artists," he says.
Driving through the district, Cory points out that the muralists took on a variety of subject matter, many of them local and topical. Detroit-based Kobie Solomon augmented Busy Bee Hardware Store's motif with a sprawling work that nod to the current honey bee colony collapse crisis. Elsewhere, a collaborative mural between New York City-based Pursue and Toronto-based Kwest reference street art giant Shepard Fairey's
recent legal troubles
in Detroit.
A number of murals were dedicated to locals that the visiting artists met in Detroit. Barcelona-based Miss Van created
a tribute to Detroit-based artist and fan Ashley Marie
, whose sister Chelsea recently died.
Cory says the visiting artists responded so well to the local community because of the energy already here. "The local community gave them that energy," he says. "The community embraced them." Cory describes the camaraderie between the visiting artists and the local artists as kind of like "summer camp."
Cory says during the 10 days of the festival, thousands of visitors have come to watch the artists in action — including photographer Martha Cooper, best known for documenting the burgeoning New York City graffiti scene of the 1970s and 1980s. In addition, the festival has hosted field trips from local elementary schools, artist talks, and walking tours.
"This event has spanned all demographics of our community, because the market is an equalizer because of food," Cory says. "The Eastern Market Corp. taught us that one of the ways that the market is successful is because everyone needs to eat. Whatever social circle you're in, food is an equalizer. And food in the market is about discovery. So now we've created an extension of that discovery in the community." Additionally, Cory says the murals have helped activate the neighborhood beyond the farmers market.
"The energy and the positive vibes and spirit of this thing from this has been one of the most beautiful experiences in my life," he says as our tour ends. "[The artists] have been so happy. They all want to be in Detroit, they all want to have a piece of Detroit. These guys are like, 'How can we do more in Detroit? How can we now transfer this energy to our community?' So now we're creating cross-continent connections to Detroit through art."
View more photos of the murals
over at 1xRUN's website
, or head over to Eastern Market to see them for yourself. A map of all of the mural locations is available at the Murals in the Market website.