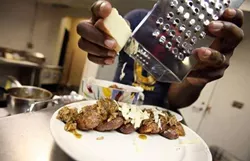 If you're the type to nerd out over the city's growing dining scene, this may be the event for you check out, coming Oct. 8 from 8-10 p.m. Swap out the vinegar and baking soda volcanoes from elementary school with food and adult beverages at the first-ever Nerd Night Detroit, in support of COLORS' job development and training programs.
You'll be able to stroll through the COLORS Detroit space at 311 E. Grand River Ave. and take in a number of interactive demonstrations that introduce you to the science behind taste, cooking with liquid nitrogen, beer making - all to a soundtrack spun by DJ Peter Croce. Presenting during the event will be members of Wayne State University, as well as a few professionals in the service industry. Live entertainment will follow the presentations from 10 p.m. to midnight.
Admission is $10, not a bad deal, and of course it goes toward a noble cause. COLORS is working to fill the racial gap within the the restaurant industry, in which higher-paying front-of-the-house jobs are dominated by white folks. Students of the organization hone their craft in numerous roles at the venue, which is open for service during lunchtime hours. Once they've gone through intensive training, COLORS works with alumni to try to place them in positions in fine dining establishments. Organizers say this is the first of a bi-monthly event, so if you miss out, there will be more.
For more information, go to the website.