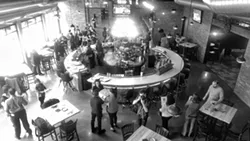 It's officially football season, or something. And you and your fantasy football teammates need space to make your draft picks. As if such modern male rituals needed any help with finding man cave options, Punch Bowl Social downtown has a promotion running to get you started.
For $25, teams are invited to bring their laptops and are supplied with wings, Old Man Cans and all the wifi needed for two hours, Sundays through Thursdays.
After the picks, complete the evening of male bonding with a bowling, ping pong, board games or by sharing one of the spots giant, shareable boozy punch bowls. To reserve, call (313) 749-9738.