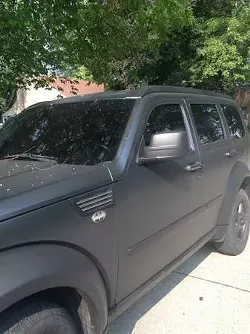 Love hurts. Especially when it involves a Batman-loving cheating ex-boyfriend. That's why one Livonia woman is getting rid of a pimped out Batmobile Nitro she bought for her former beau.
"If you are a Batman freak, this is the Batmobile for you," the Craigslist posting says.
Tricked out Nitro, Batman style. Matte black paint job, Batman silver logos, decals. When you open the driver and passenger door, a batman logo shines down on the ground. I do have seat covers too that I did not have patience to put on. Bluetooth hooked up so you can talk hands free on the phone. Brand new radio touch screen that can play CD's, Pandora and even movies. It is in my name, but I got it for my ex, who turned around and got all the extras paid for by his side chick. I need to sell this Nitro, I cannot afford to keep it, nor do I want to look at it anymore.
You heard the lady. Those interested in helping her out can find
more information right here
.