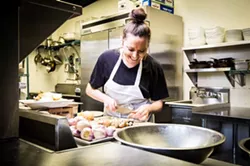 You know chef Kate Williams from such restaurants as Republic downtown and the shuttered Rodin in Midtown. So far her skills in the kitchen served as more of a supporting role for the restaurateurs for whom she's worked. Now the veteran chef is plotting her next moves and they sound exciting.
Williams is in the process of signing the lease on a property for her very own restaurant concept and confirming dates for a nationwide cooking tour, which she will embark on with Revolver co-founder, Peter Dalinowski.
Of the restaurant, she's being cautious about letting too much out of the bag now, but tells us that it will be an intimate, chef-driven spot where she can get back to why she began cooking in the first place. "It's rooted in hosting and eating and drinking together as a family, it's how you spent time together," she says.

While Williams and Dalinowski are still confirming dates, the duo plan to kick off their tour in late October, when they'll throw a dinner party in town. They plan to travel to at least eight different cities, testing out different concepts in each, Williams tells us. So far, they've locked in visits to New York, Chicago, Los Angeles, Denver and Salt Lake City.

This is a huge step for Williams. She's been cooking professionally for the past 12 years, honing her skills in New York, Chicago and in Europe. More recently, she helped launch Republic in the GAR Building downtown and prior to that she worked under Torya Blanchard at Rodin in the Park Shelton Building in Midtown. She left Republic in May, just a few months before she was to also help open the Parks and Rec diner in the same building. It seems she's well on her way to doing big things with her current projects and we'll be keeping an eye out the latest developments on her restaurant and tour.