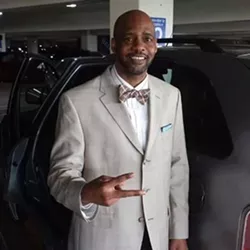 Even if you don't know him personally, chances are you are familiar with some of the stories that veteran reporter Darren Nichols has worked on in his more than two decades working in the Detroit media market. The city's historic bankruptcy, he was there. He was also there, along with dozens of others along the way, in covering the ongoing Kwame Kilpatrick saga. And when both The Detroit News and Free Press went on strike for two years in the 1990s, Nichols, then a rookie journalist, took a chance and stood in solidarity with his fellow news men and women on the picket line, rather than stay on as a scab or move one to another media market.
Well last year, Nichols landed on hard times when, while on the job in City Hall, he suffered a stroke, leaving him unable to work since. Word of his medical emergency spread quickly throughout the Coleman A. Young Municipal Center, as Nichols had been a known fixture on the beat. In fact, Mayor Mike Duggan that day expressed his well wishes to the reporter and his family during a televised news conference. Nichols is still recuperating, and now his colleagues are raising funds to help out with medical expenses.
A GoFundMe campaign has been launched on his behalf,
with a goal of reaching $5,000. As of Friday, Aug. 28, the page is well on its way, with $1,375 raised so far.
On top of the online campaign, there will be a fundraiser exactly one year after Nichols' stroke. Says the GoFundMe page: "Please help us by chipping in online, or come visit with Darren at an upcoming fundraiser being held from 6-9 p.m. Friday, Sept. 25 at The Anchor Bar, 450 W. Fort St."
The Anchor Bar has long been a reporter haunt, having served as an unofficial headquarters for the Detroit Newspaper Guild. So go figure, the shindig would be held there. While you're there, grab a brew and a burger and get to know some folks who work behind the scenes in the local media.