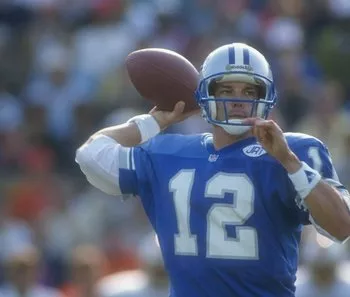 Former Detroit Lions quarterback Erik Kramer was injured Tuesday night by a self-inflicted gunshot wound,
according to NBC News
. The injury was initially reported as non-life-threatening.
Kramer, who in 1992 led the Lions to
their only playoff win
since their last NFL championship in 1957, was discovered by Los Angeles County authorities in a motel west of L.A., in Calabasas, California.
The former NFL journeyman, 50, also played for the Atlanta Falcons, Calgary Stampeders, Chicago Bears, and San Diego Chargers in a 13-year professional career.
In 2011, Kramer's son Griffen
died of a heroin overdose
in Agoura Hills, California. He was 18 years old.