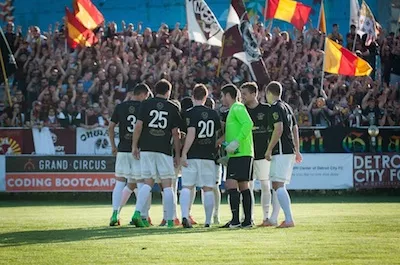 Fresh off a 2-0 victory at Pontiac's Wisner Stadium against the Michigan Stars, Detroit City FC advances to the Midwest Regional Playoffs in Madison, Wisc., later this week.
It's not the first time "Le Rouge" have made it to the regional playoffs (they did it before in 2013), but things are looking very positive for the team this year. They're the No. 2 seed going in, and this season saw them beat two of the other teams they'll face in the playoffs — the Madison 56ers and AFC Cleveland.
Detroit City FC's general manager Donovan Powell feels the team has a good chance to come out on top. He tells
MT
, "We've been one of the most competitive teams in the National Premier Soccer League. We were in first place for the majority of the season. Last Friday, here at Cass, we lost a close game, and Madison, who was right on our heels the entire season, they won to claim first place right down at the end. But, yeah, the feeling here is that we have a great opportunity to win. We expect to win."
The four teams will play two games in Madison this Friday. The winners of both games will play Saturday in a finale. Should DCFC come out on top, they'll advance to the national finals.