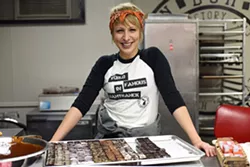 Bon Bon Bon is continuing its expansion efforts next week in Ann Arbor, by opening what chocolatier Alexandra Clark calls her "tiniest shop yet." The shop, described as a "pop-up with potential," will be located in the former Jerusalem Garden building at Fifth and Liberty. Clark and friends will be in good company - they're with Katoi in Exile, the A2 satellite for in-the-works Detroit Thai restaurant Katoi. Clark tell us that if things go well at this new location, she may consider this a permanent addition. The place will be open 11:30 a.m. to 7:30 p.m., Thursday-Saturday.
Clark's pursuit toward bon bon domination is well on its way. In just a year, she's gone from her pocket-sized chocolate factory in Hamtramck, only open once a week, to another shop in the Dime Building in downtown Detroit, open daily and now this. Next time you are in Ann Arbor, make sure to grab one of the bite-sized treats.
UPDATE:
Clark tells us that she was not expecting to expand to Ann Arbor so quickly, although it's been on her radar for some time. When the guys behind Katoi approached her with the idea of offering their customers the chocolates as a small dessert alternative, she couldn't resist the opportunity. To keep in theme with her partnership, Bon Bon Bon's summer collection is geared, in part, toward the tastes of Thai cuisine - complete with Thai iced tea and curry varieties.