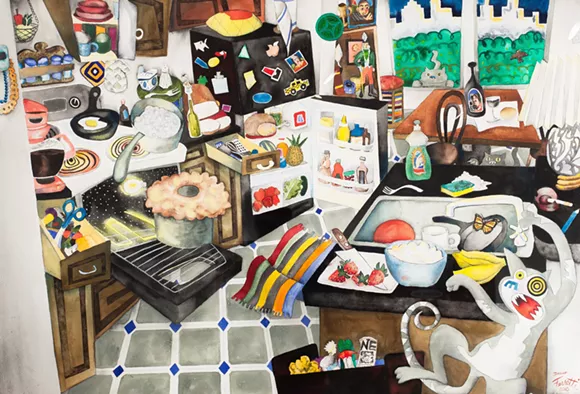 Nearly five years ago, artist Jerome Ferretti debuted his somewhat sphinx-like "
Monumental Kitty
" along the pedestrian bridge ramp at Cochrane Street just north of I-75 — perhaps his most visible art in Detroit.
But Ferretti is a prolific artist who has had his hand in a variety of mediums over the years, including painting and sculpture, and on Friday, the public will get a chance to see a career-spanning show featuring 30 years of artwork. The playfully-titled
Something Old, Something New, Something Borrowed, Jerome's Review
opens from 5 to 8 p.m. Friday, July 10 at
the Scarab Club
. The show will combine works borrowed from collectors as well as new works created for the show. At 7 p.m. on Thursday, July 16, Ferretti will be on hand for a gallery talk. The show runs until August 15.
(Side note: While double-checking Monumental Kitty's whereabouts on Google Maps' street view, we were amused to find that Kitty's face was blurred out, apparently having tricked
Google's automatic face-blurring technology
.)