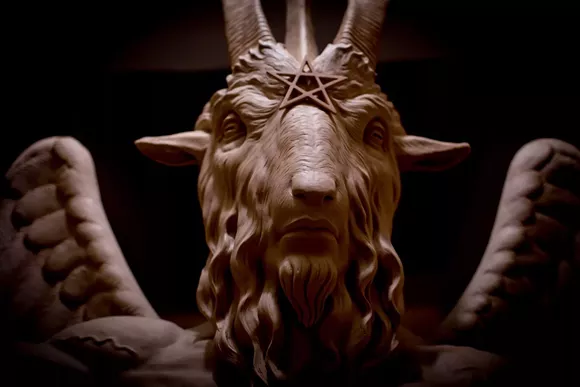 We're on the phone with
the Satanic Temple
's Jex Blackmore to learn more about
the Baphomet monument
that the group is expected to unveil in Detroit later this month, and in our typical way of signing off we ask if there's anything else she'd like to add.
"Yeah," Blackmore says. "I have a little bone to pick with you."
Uh oh.
It turns out Blackmore takes issue with our previous description of the Satanic Temple as an "atheist activist group."
"We consider ourselves non-theistic Satanists," she says. "And a religious organization — that's a really important distinction that we make. For example, Hindus are sometimes called non-theists. And you wouldn't call political Hindus activists, or atheist activists."
We concede that it's a fair point.
"It's really important in terms of how people understand us," she continues. "Just as much as we get people who think that we're into the Biblical concept of Satan, we get people who think that we're just posing as Satanists, and not truly Satanists or whatever you would say. Non-theistic Satanism is part of modern Satanism. It's a misconception that we fight a lot that we're trying to dispel."
Blackmore adds: "If it's helpful: Atheists don't consider themselves part of a religion. Non-theists have a religion, but without God. That's the difference."
Duly noted!
Here's the copy from the "About us" section from
the TST's website
:
The Satanic Temple is a non-theistic religious organization dedicated to Satanic practice and the promotion of Satanic rights. We understand the Satanic figure as a symbol of man's inherent nature, representative of the eternal rebel, enlightened inquiry and personal freedom rather than a supernatural deity or being. It is our mission to facilitate communication and mobilization of politically aware Satanists, secularists, and advocates for individual liberty. We actively provide outreach and participate in public affairs where the issues might benefit from rational, Satanic insights.

The Detroit Chapter is officially affiliated with the national Satanic Temple organization, we are a self-organized, volunteer-led group that seeks to organize and empower like-minded individuals who are passionate about supporting The Satanic Temple's mission. We promote awareness of the Satanic cause, educate our peers and encourage critical thinking, activism and justice within the Detroit community.
In other news, the Oklahoma Supreme Court
recently decided
that the Ten Commandments monument is unconstitutional and must be removed from the Oklahoma Capitol grounds. The Baphomet statue was originally intended to be placed next to that monument. Where the Baphomet statue is headed next has yet to be decided.
Final details on the monument unveiling party are forthcoming. Stay tuned to
Metro Times
for more information.