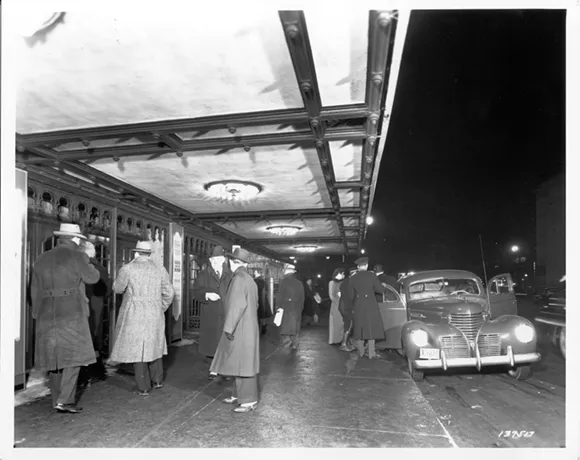 Music Hall
's original 1928 canopy — which "sadly fell victim to vandals during a low period in our city's history," according to a press release — is currently undergoing renovations supported in part by a $100,000 grant from the Michigan Council for Arts and Cultural Affairs and the National Endowment for the Arts.
The span once included iron ore columns, Fleur de Lis cast iron lintels, and custom lighting fixtures, but all were stolen by scrappers in the late '60s. The existing structure (with present-day "aesthetics that can generously be described as 'makeshift,'" according to the release) suffers from leaks, electrical breakdowns, and structural flaws.
The new canopy will hark back to the original design, but employ modern, cost-efficient materials, such as LED lighting and polycarbonate resin columns that will be distressed to match the originals. Other updates include LED uplights that will illuminate the building's Corrado Parducci masks, new travertine thresholds, and banners on Madison Avenue's new decorative lampposts. Additionally, the Michigan Department of Transportation is narrowing the traffic lanes from three to two on each side of Madison and adding trees and other foliage in an effort to make the stretch more pedestrian-friendly.
Below, check out photos of the new construction.