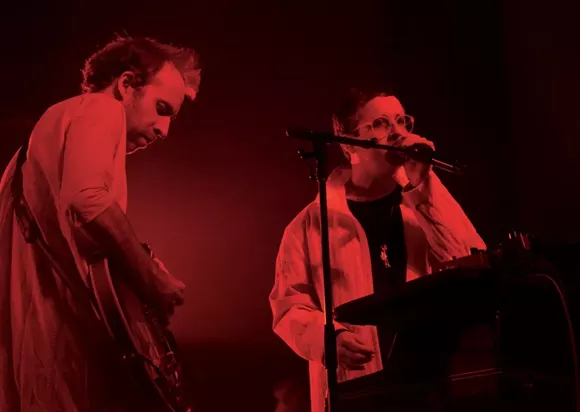 WHO: Hot Chip, Sinkane
WHEN: Tuesday, June 2
WHERE: Majestic Theatre, Detroit
Though they may look more like mad scientists than rock stars, London's Hot Chip can tear the fucking club up. 15 years and six albums into their career, the band has arguably emerged as the masters of the 2000s dance-rock scene. The band returned to Detroit Tuesday night for a performance at the Majestic Theatre, their first in Detroit since opening for LCD Soundsystem on that band's final tour in 2010.
On cuts from their latest release,
Why Make Sense?
, the band — expanded into an impressive seven-piece live — infused disco, funk, and hip-hop influences into their oeuvre, even swapping instruments throughout their set to switch things up. But as lead vocalist Alexis Taylor pointed out in breakthrough single
"Over and Over"
nearly a decade ago, there's a joy in repetition — and numerous times the band locked into a hypnotic groove that had the whole room under its spell.
Opening act Sinkane joined the band for band for a closing cover of Bruce Springsteen's "Dancing in the Dark," proving that these guys can even make The Boss cool. Here's hoping that Hot Chip return to Detroit before too long.
Did we see you at the show? View our photo slideshow of the gig here.