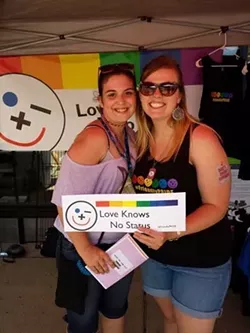 This year's
Ferndale Pride
will offer free HIV testing at the
Affirmations community center
in Ferndale. This marks the first year that Pride has promoted the testing as part of the event, although both Motor City and Ferndale Pride have been offered some type of STD or HIV testing at for at least the past 15 years.
"Most people tend to be more comfortable if they're getting tested with a group," says Ferndale Pride event chair Julia Music. "If they see their friends getting tested, they'll get tested too. There has been a range in the number of people who get tested every year, but the testing is not painful at all, and it's a nice little add-on to the event."
Music says the tests are paid for and run by the AIDS Partnership Michigan and the Oakland County Health Department.
Ferndale Pride takes place this year on Saturday, May 30 from 1 p.m. to 10 p.m. on the west side of Downtown Ferndale. The HIV testing will be offered from 1 p.m. to 4 p.m. and 5 p.m. to 7:30 p.m.
Along with free HIV testing, this year's Pride will also feature the
Rainbow Run
5k as well as vendors and shopping on the streets of Ferndale. The event is free for all ages, and attracts around 15,000 people each year.