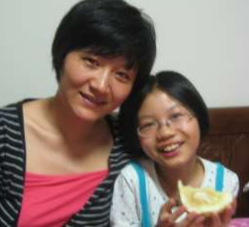 A Chinese architect who's been held in a west Michigan jail for the last year should be released while she seeks asylum in the U.S., according to a federal lawsuit filed last month in Ann Arbor.
But her request may be rendered moot before any decision is made. An attorney for the woman, Shixin Lu [pronounced SHE-shin], says the federal government may seek to have her deported within the next two weeks.
That would present a grave set of circumstances for the 43-year-old, says Detroit-based attorney Bill Goodman, who represents Lu.
As Goodman sees it, Lu is on the "literal edge of being sent back to China to live a shortened life filled with imprisonment and torture."
That's because Lu is a practitioner of the Falun Gong spiritual group, he says. The group has been the subject of a widespread crackdown by the Chinese Communist Party ever since it was banned outright in the country in 1999. Human rights groups have said practitioners have been subjected to torture, and it's estimated thousands of fllowers have died while in custody.
Lu's run-in with federal immigrations officials began in early 2014.
She first arrived in Detroit in January 2014 with her husband, Guoyou Li, and daughter Yuening Li on a six month valid B1/B2 vistor's visa.
The family planned to tour famous architectural sites in the country and visit with friends in metro Detroit, also fellow Falun Gong practitioners, according to the suit. They rented a home in Troy, where Guoyou and Yuening currently live.
But a month later, Lu returned to China to take care of her ailing father, the suit says. She also planned to carry out "certain professional responsibilities" at the Institute of Design in the Harbin Institute of Technology, where she was previously employed as a lecturer. Her departure was in compliance with the terms of her visa, the suit says.
Lu was only permitted to continue working as an architect because a "highly placed member" of the Chinese Communist Party — someone she's close with — "protected her by agreeing to monitor her himself and assuring the authorities that she did not continue the practice of Falun Gong," according to the lawsuit.
While visiting home, her boss — in a carefully worded email — warned her to leave the country, the suit says. The warning, unlike anything Lu has ever received, was "clearly understood that both she and her husband were in danger," according to the suit.
Yongfeng Peng, an attorney from China who has represented several Falun Gong practitioners in lawsuits, is an acquaintance of Lu's husband. In an affidavit filed with the U.S. Board of Immigration Appeals, Peng says the email contained "coded" language that implicitly urges Lu to leave China and not return.
"In my experience, such coded language is commonplace in China, especially by individuals referring to dangerous, risky, or widely censored activity, including Falun Gong-related activity, which could attract the unwanted attention of Chinese authorities," Peng states.
In May, Lu flew back to Michigan.
Upon arriving at Detroit Metropolitan Airport, according to the lawsuit, Lu said she was returning to the country to be with her family. After being questioned by authorities, "she revealed that she feared persecution in China," the suit says.
That's when — inexplicably, according to attorney Goodman — Customs and Border Protection officials canceled Lu's visitor's visa. She was processed for expedited deportation under federal law. Since then, Lu has been detained in Calhoun County Jail.
CREDIBLE FEAR

In late May 2014, Lu was given a "credible fear interview" with an asylum officer, according to the complaint. Lu explained she had previously been mistreated in China and that "she feared harm if she returned there based on her religion," the suit says.
Lu told the asylum officers she was previously persecuted twice by police and the Chinese government for practicing Falun Gong. While detained, Lu says, she was beaten by a handful of male officers and "hung by her handcuffed arms."
The asylum officer interviewing Lu determined she "demonstrated a credible fear of future persecution or harm," the suit says. A supervisor approved the finding two days later.
At that point, her expedited removal to China was terminated, giving Lu the opportunity for parole, the suit says.
But a week later, federal Immigration and Customs officials overturned the asylum officer's determination, saying Lu was not eligible for parole because she was "unable to provide sufficient evidence to establish to ICE's satisfaction that she had substantial ties to the community." Lu requested parole twice, yet never received a response.
A three-day trial before an immigration judge was scheduled for June, but the hearings were spaced out over the course of months. It wasn't until November that Judge Marsha Nettles issued a 44-page opinion, denying Lu's request for asylum.
Lu sought parole a third time in January, but was denied by immigrations officials, who, according to the suit, applied "the improper 'prosecutorial discretion' standard rather than the standard established" by ICE directives governing parole for individuals similar to Lu.
"These are people who have no criminal record at all," says attorney Goodman of Lu and her husband.
Meanwhile, Lu has remained detained in jail.
"Because [Lu] speaks little English, this detention is an added hardship for her," the lawsuit says.
Lu's yearlong stay in jail exceeds constitutional bounds for reasonable detention, the suit asserts, and the government has "failed to provide any special justification for this harsh and excessive detention."
MEDIATION, COMPASSION, TRUTHFULNESS
Falun Gong, also known as Falun Dafa, began in 1992. It's a peaceful movement without a formal leadership structure that involves meditation, combined with spiritual teachings. Despite the group's core focus on meditation, compassion, and truthfulness, it has been the subject of intense persecution by the Chinese government.
The group emerged "out of ideas prevalent in some aspects of alternative Chinese medicine,"
according to the Guardian
. In April 1999, a group of 10,000 followers unexpectedly staged a silent protest outside of the Communist party's headquarters in light of attacks against fellow members. In response, the government declared the group was a threat to national security. Two months later, Falun Gong was banned.
To justify the move, says the
Guardian,
the Chinese government's suggested the group's real motive was political, and thus gave it the perception as a threat to the Communist party. Since the ban was implemented, human rights groups say at least
2,000 practitioners have died while in custody
, while others have been subjected to harrowing abuse, including forced labor camps and torture.
It's under those circumstances, says Goodman, why Lu should be released from the West Michigan jail while she seeks asylum.
However, last week, the government wrote in court briefs that the Immigration Board of Appeals denied Lu's request for asylum on May 1, and now the order to remove her is final.
Meanwhile, Goodman says Lu's husband has also filed for asylum, which would grant Lu derivative status and allow her to remain in the U.S.
So why the rush to remove Lu?
"It stinks," says Goodman. "Clearly, these people are treated very badly and sometimes killed in China, and why this mother and wife and highly respected professional has to be sent out of the country in such an abrupt and unfair way turns my stomach."
U.S. District Judge Judith Levy has asked Lu's attorneys to explain why her request to be released from jail shouldn't be dismissed, given the immigration board has denied her application. A decision is expected in the coming week.
The U.S. Attorney's Office did not respond to a request for comment.