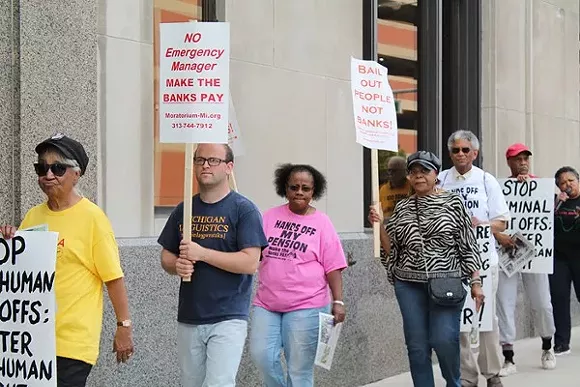 The Detroit Water & Sewerage Department (DWSD) has begun posting shut-off notices for Detroit residents who may have their water service disconnected because of past-due bills.
An estimated 25,000 residential accounts who are at least 60 days past-due or have more than $150 in overdue payments could expect to see a warning posted on their door handle. They'll have 10 days to pay the bill or sign up for a payment plan, per DWSD policy. Mayor Mike Duggan's administration has said it will roll out a new payment plan this summer after it was revealed
nearly all customers on payment plans defaulted again
— prompting activists to call for the city to consider a payment plan based on income.
Such a payment plan would take into consideration a customer's ability to pay, and would charge low-income residents less for water. A Detroit City Council subcommittee recently moved to establish a work group to consider
how the city may craft a water affordability program
.
Perhaps surprisingly, Duggan's chief operating officer, Gary Brown, signaled for the first time the mayor's administration may be open to the possibility of the idea.