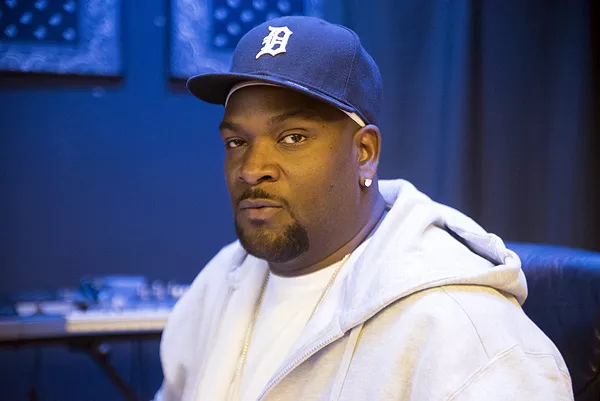 Dressed in a white tee, gray jogging suit, and sporting gold jewelry, the gargantuan emcee known as Trick-Trick (given name Christian Mathis) looks more like a retired defensive end than a legendary local musician. The 41-year-old is in his private studio scrolling through his own work — film scores, tracks from his forthcoming album, voice-overs, and other commercial work.
Trick-Trick isn't just a rapper, he's an enterprise. However, over the last nine months, all anyone wants to talk about is his No Fly Zone. Trick swivels his office chair around and takes a deep breath. "It's a respect thing. Anywhere you go, you give people respect in their town. If I feel like you're not giving the proper respect when you get here, don't worry about it. I'll address you. I give it when I go. And they goin' to give it when they get here," he says.
While some applaud Trick for standing up for his city, others have felt his methods unnecessary. Either way, Trick could care less. "I don't give a fuck how it's affected my reputation," he says. "It just would be wise for promoters to call me and check on the artists they trying to book before they book 'em! They goin' to fuck around and book somebody I don't want here and I'm going to tear his ass up when he gets here."
Trick has been a mainstay of Detroit's hip-hop scene for over 20 years. He credits his longevity to staying consistent, and to never compromising his sound for radio spins. "Fuck the radio!" he yells. "That whole politic shit where they act like they involved with the city when they not. We got so many platforms. I never left the streets. I talk to people they could never speak to."
Despite his persona, Trick is just as much of a gentle giant as he is a menacing ass kicker. He's constantly searching for something to laugh about. He loves talking music, Big Proof, and reminiscing on the past era of Detroit hip-hop. "I hate to sound like the old nigga, but it was more grown up then; it was more respectful, it had more taste, it had way, way more love," he says while nodding his head.
But Trick still maintains huge amounts of love and support for today's artists. "I used to get into it with people that diss the young brothas from Detroit about how they rap. Hey, man, shut the fuck up! That's how they rap! Let them have that! We should embrace that instead of shoveling it away because it don't match what we're used to," he says.
Over the last 10 years, Trick has been a part of three major Detroit anthems: "Welcome 2 Detroit" (2005, Motown), "From the D" (2008, self-released), and most recently "Detroit Vs. Everybody" (2015, Shady).
"I'm on the phone with Royce and Em all the time. 'Detroit vs. Everybody' was an idea we all had collectively, but Paul Rosenberg was the one that was like, 'Let's do it,'" he says. Though Trick was proud of his contribution to the record, he felt it needed more. "It was missing that grimy! I said some shit that they took off; but it's cool, you gotta do things the political way sometimes," he says. Trick went on to make a 16-minute remix that featured 16 different local emcees. "The first version was the ESPN version, but I made the titty bar/Detroit Hip-Hop Shop version," he yells again.
Trick says "From the D" is his favorite to perform. "It's just hype; I'll be performing that at the Blowout. It was actually a mashup of a record called 'Together Forever' with Esham, Kid Rock, and Proof," he says. "Then me and Em did a record called, 'Who Want It,' so I took Em and Kid Rock's vocals off those records and created a whole new record."
"Welcome 2 Detroit" was Trick's first commercial collaboration with Eminem, and a turning point in his career. "That was pressure," he says through subtle laughter. "Em called me and said, 'Come to the studio.' I get there, he got this record, and he had laid his verse already," he says. Sharing the mic with the lyrically gifted emcee proved to be a task. "Shit, Em was rapping his ass off. I'm like, 'What the fuck am I going to do with this!' That record took me to another level, and I thank God I've been able to maintain and stay afloat since then."
Right now, Trick is in the finishing stages of his next album, Gatekeepers. The album is slated for a June release, and he plans on releasing each track biweekly with a video (think Kayne West's 2010 GOOD Friday series). Distribution for the album is still pending. "Independently through TuneCore, I've been able to reach a lot of platforms, but it's not maximized to its full potential because I'm not willing to share with a major label. They not putting in no work. They don't even know how to market records. These artists are breaking themselves, then giving themselves away to these labels that are piggybacking on what they already did," he says with a scowl.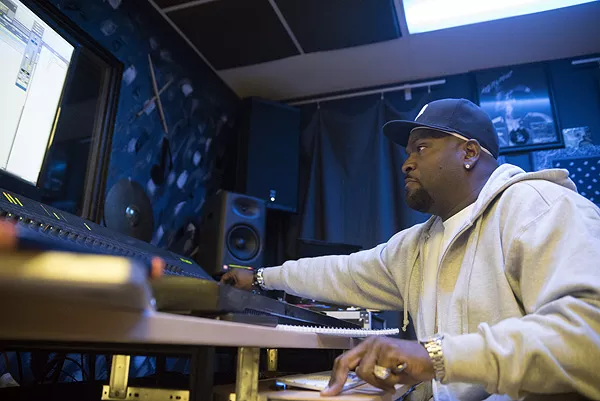 Though Trick is a seasoned performer, he decided to get more serious about the craftsmanship of rapping and has even added a seven-piece band to his performances. The additions have led to more versatile shows and festival gigs. "I've been performing with a live band for about three or four years now. You've never seen a show like mine before! I'm having fun now; I don't give a fuck. I can do what I want to do, and you're about to be entertained," he says.
For many, Trick is seen as something of a leader in Detroit's urban music community, a role he embraces and doesn't hide from. "I take every day and whatever God puts on the table. I know God made me a leader but it's not nothing to dwell on. I've been built up and given strength from a higher power that has put me in this position," he says.
Trick has never been shy about weighing in on controversial local issues. When asked if Midtown's and downtown's upgrades are gentrification or upgrades, he opens up into a bit of a rant. "If it's fucked up and it's being fixed, just let it be fixed! If you live in a fucked up neighborhood, do something about it! If these muthafuckas done bought up all this property, that's because yo' ass didn't buy it first! People tell me I run Detroit, and I say, no. Dan Gilbert runs Detroit, I just enforce a certain area. I salute Dan Gilbert because he believed in my city and he's putting money into it. You muthafuckas ain't even smart enough to cut the old lady grass across the street and shovel the older people's snow in goddamn the wintertime! Ya'll don't do that shit no mo' — so quit getting mad when somebody come in this muthafucka and buy this bitch up because yo' ass didn't take care of it!
"People don't miss shit until it's gone. And when Detroit is gone to whoever the fuck wants to take care of this mutchafucka, so be it."