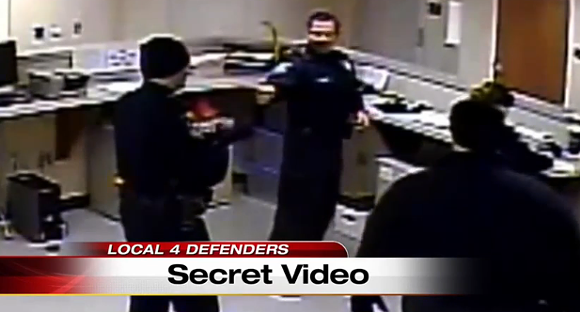 WDIV-TV Channel Four reporter Kevin Dietz obtained video that appears to show Inkster police officers
yucking it up after arresting Floyd Dent
, a 57-year-old Detroit native.
One of the officers, William Melendez was charged in connection with the rough arrest of Dent, after patrol cam footage showed Dent was repeatedly punched in the head and Tasered three times.
Wayne County Prosecutor Kym Worthy earlier this month announced two charges against Melendez, who's also as "RoboCop." Melendez — who was employed as a part-time officer in Highland Park, but reportedly will remain off active duty with the department, either — is seen in the video pulling Dent over for a traffic violation. He then forcibly drags Dent out of his car and punches him 16 times in the head. Melendez was recently fired by the city of Inkster.
Dietz says the video he obtained shows a group of officers who "appear to be joking around and celebrating as they clean [Dent's] blood off their uniforms."
"Quite honestly, they are disgusting," said Dent's attorney Greg Rohl. "They show officers making fun of Floyd. They show them congratulating each other for this beat down and the whole time he is there watching it."

There's no audio with the video, which may be a good thing for the officers because it looks like the police are reliving the arrest and alleged assault of Dent while he was just off camera and in earshot.

"He is bleeding like a sieve, there is blood everywhere," said Rohl. "The officers don't seem at all disturbed by what happened at the scene. They appear happy, pleased, even celebratory over the arrest of Floyd Dent—a man who was just beaten kicked and tased.

As the officers continue wiping Dents blood off them, an officer decides to do a little acting. He lies down on a bench and imitates Dent being on the ground at the scene choked by Officer William Melendez. His acting seems to thrill rather than disgust his audience.
When Dent was finally taken to the hospital, it was reveal he received a closed head injury, broken ribs, and a fractured orbital. Dent has no criminal record.
Officers say Dent was attempting to elude them that late January night. Dent maintains he tried to make it clear he was unarmed; officers still deemed him a threat. In the end, Dent was arrested for resisting arrest, assault, and possession of cocaine, which Dent claims the officers planted.
After a judge reviewed the tape, all charges besides the possession of cocaine were dismissed. Worthy later dismissed the remaining drug charge.
Watch the video below.