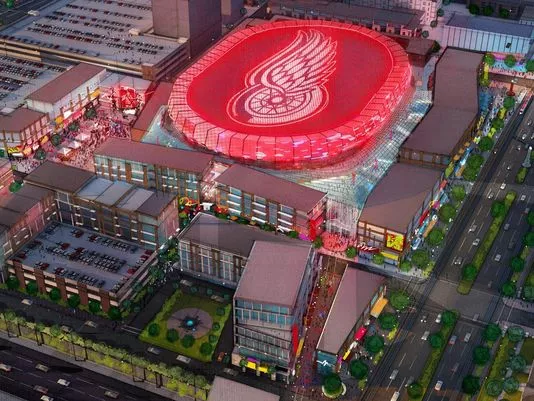 Detroit City Council on Tuesday approved a proposed rezoning of 12 acers near downtown to facilitate the construction of a new $450 million Detroit Red Wings arena.
There's been no word yet from local observers who spent last week
asserting the council was reverting to bad habits and delaying the vote over a vague lack of trust
. Some councilmembers Tuesday took pains to stress the brouhaha from those observers was simply that: brouhaha.
"Each and every one of these council members has to do what we were put in charge legislatively to do," Councilman James Tate
said
.
Tate was referring to the delays — one from Olympia Development of Michigan, the real estate arm of Red Wings owner Ilitch Holdings Inc. last year; two others by Detroit City Council — on the vote to address
what would come of two historic hotels near the arena
, the Eddystone and Park Avenue Hotel. Earlier, councilmembers asked Olympia to address parking concerns and traffic flow.
Under the plans approved Tuesday, Olympia will have to present redevelopment plans to the city for the Eddystone before it could raze the Park Avenue, a decision the company said is needed for a loading dock. Olympia still must garner approval from Detroit's Historic District Commission on plans to demolish the Park Avenue, before things can keep rolling along.
In the deal for the arena, the city of Detroit won't receive any revenue generated from the arena, but no general fund dollars will be used to bankroll construction. Olympia will lease the arena for 35 years, with 12 five-year options. The city will receive about $15 million in income tax revenue from construction jobs and 400 new jobs at the arena, over the course of 30 years — about $500,000 annually. About
60 percent of the arena's construction costs
will be funded by public dollars.