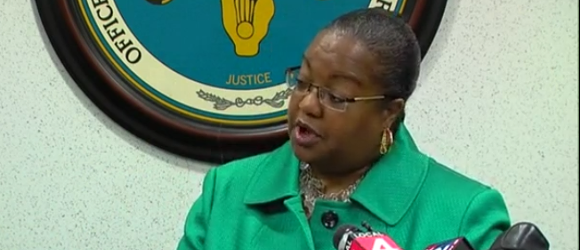 A former Inkster police officer will be charged in connection with the rough arrest of Detroit resident Floyd Dent, after patrol cam footage showed Dent was repeatedly punched in the head and Tasered three times.
Wayne County Prosecutor Kym Worthy announced on Monday two charges against William Melendez, the officer known as "RoboCop." Melendez — who was employed as a part-time officer in Highland Park, but reportedly will remain off active duty with the department, either — is seen in the video pulling Dent over for a traffic violation. He then forcibly drags Dent out of his car and punches him 16 times in the head. Melendez was
recently fired by the city of Inkster
.
Initially, Dent was charged with assault, resisting arrest, and possession of cocaine. Once the video came to light, the first two charges were dropped. Worthy said Monday the drug charge would also be dropped, following the completion of her office's investigation into the incident.
"To many people in this region and across this country ... police brutality seems to be out of control," Worthy said at a press conference before she announced the charges.
Melendez has been charged with misconduct of office — mistreatment of a prisoner, and assault with intent to do commit great bodily harm less than murder. The felony charges carry penalties ranging from five to 10 years.
The arrest took place around 9:45 p.m. on January 28. When a local news station obtained the patrol camera footage in mid-March, the handling of Dent's arrest drew national attention.
Without the video, the public likely wouldn't have heard about the incident, Worthy said. In fact, her office wasn't made aware of the incident until it made headlines.
"We found out about it as many of you did," she said.
Worthy said her office conducted an investigation after the Michigan State Police completed its own. The prosecutor's office reviewed televised video footage, statements from Dent, witness statements, police documents, radio dispatch recordings, photographs, and statements by responding officers. The investigation has since been completed and no additional charges will be brought against Melendez, she said.
An arraignment for Melendez will be announced at a later date.