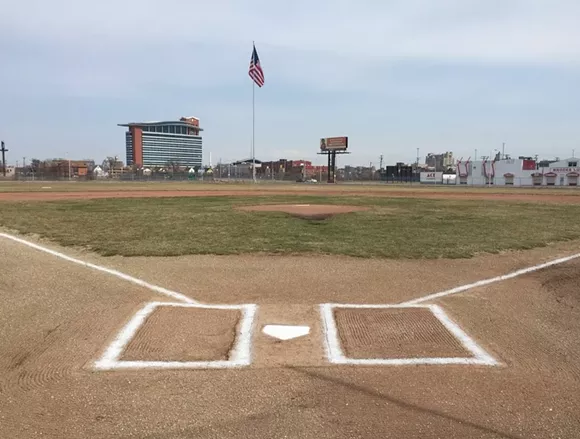 "I am the grass; let me work."
—Carl Sandburg

In recent weeks, we've begun to see details of the new proposal to redevelop Detroit's historic Tiger Stadium site. The old ballpark, which opened in 1912 as Navin Field, was demolished in 2009, leaving in its wake a weed-choked, garbage-strewn eyesore.
For months, the entire 10-acre site sat fenced off from the surrounding Corktown neighborhood, littered with trash and chunks of concrete; rocks and rebar marred its desolate landscape. In the footprint of the old grandstand, the weeds had grown to 6- and 7-feet tall.
It was one of the ugliest sights the city has seen in recent years, and no one was doing anything about it.
That's when the Navin Field Grounds Crew took root.
In the spring of 2010, my cohorts on the Navin Field Grounds Crew started voluntarily restoring the historic ballpark at the corner of Michigan and Trumbull, repeatedly risking arrest for chopping the weeds, cutting the grass, and picking up garbage. But it was a genuine labor of love for a group of nostalgic baseball fans, and so,
like the People for Palmer Park
, we persevered.
Today, Navin Field is no longer an eyesore.
It is a bonafide tourist attraction.
All summer long, baseball fans from near and far make the pilgrimage to "The Corner" to see where Ty Cobb stole home. Where Joe Louis defended the title. Where Hank Greenberg broke barriers. And where a newly freed
Nelson Mandela addressed a nation
.
To their credit, the Old Tiger Stadium Conservancy and former U.S. Senator Carl Levin recently struck a deal with the city to build a new headquarters on the site for the Detroit Police Athletic League.
And to his credit, PAL CEO Tim Richey has indicated they're willing to continue to allow public access for the hundreds of tourists who flock to Detroit's field of dreams every year.
Larson Realty Group CEO Eric Larson, whose company is planning an adjacent mixed-use retail and residential complex along Michigan and Trumbull, has even indicated a willingness to preserve the outfield's final dimensions.
These are encouraging signs for an encouraging project.
Today, the only remnants of Tiger Stadium are the venerable old flagpole in center field and the historic grass upon which so many legends of American sport have played. From
Babe Ruth
to Jackie Robinson to
Mark Fidrych
. From Doak Walker to Jim Brown to
Lem Barney
.
But now the old sod is in jeopardy.
In
a recent column in The Detroit News
, sportswriter Lynn Henning suggests that the project's success depends on artificial turf.
This is a terrible idea.
That's not just because artificial turf might be
tougher on our bodies
or that
its initial cost estimates are often misleading
or that
it could very well be hazardous to our health
.
No, it's because the preservation of this historic site in its natural state is exactly what gives it its unique appeal.
Sacred ground
The real key to the success of any new development at Navin Field is true historic preservation. Tearing up the grass and covering the field with fake turf would not only be bad for the environment, it would effectively eradicate what little history remains at the corner of Michigan and Trumbull.
Detroit is laden with lost history. From the Graystone Ballroom to J.L. Hudson's to the long-lost Lafayette Building. Today the Graystone site is a McDonald's, and the Hudson's site is still a vacant sea of concrete. But in the footprint of the old Lafayette Building sits a rare downtown public park and garden called Lafayette Greens.
While it's unfortunate the Lafayette couldn't be saved, Detroit now has a vibrant green space in its place. And
as they've done in the land of Cadillac
, Americans have come to realize that green space is indeed vital to our urban landscape.
Our unique history, of course, is vital, too. Imagine if Woodlawn Cemetery, eternal resting place of Rosa Parks, James Jamerson, and C.L. Franklin, suddenly switched to plastic grass. Or if someone restoring an old mansion in Boston-Edison were to cover it in vinyl siding.
This, of course, is unthinkable — even in Detroit. And so, too, should be the idea of artificial turf at Navin Field.
"The Corner" is more than just a historic American landmark. For many people,
it is truly sacred ground
. In the last four years alone, we've witnessed more than a dozen families come and scatter the ashes of their loved ones at Navin Field. And we know of many others who did the same when Tiger Stadium was still standing. It's not unreasonable to think there are hundreds of people whose ashes have been scattered there over the years.
To cover this historic site with artificial turf, in the parlance of baseball, would be an unforced error. And it would tarnish the memory of the many people for whom it is their final resting place.
Uniquely Detroit
The Police Athletic League faces some unique challenges in building its new headquarters on the site of this national historic landmark. Perhaps its biggest challenge is in preserving the uniqueness of Navin Field.
Nowhere else in America does anyone have what we do here in Detroit.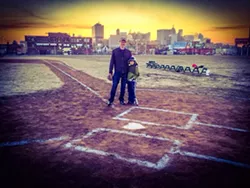 In Ohio there's the recently restored
League Park
, where Babe Ruth hit his 500th career home run. But Cleveland sacrificed some of the ballpark's unique character when they covered its historic diamond with artificial turf.
In New York, on the site of old Yankee Stadium,
there's now a public park with three natural-grass baseball diamonds
, a remarkable green space in an otherwise urban landscape. Alas, the major league diamond is no longer in its original location. (It was reconfigured in order to accommodate the other two diamonds.)
And in Indianapolis, on the site of the recently restored Bush Stadium, there is now a condominium development called Stadium Lofts.
Bush Stadium's historic configuration remains, but the field itself is no longer grass.
It's not even artificial turf.
In fact, according to
The Indianapolis Star
,
"the infield diamond is stamped in concrete."
We can do better in Detroit.

A new headquarters for PAL
The Detroit Police Athletic League is now in the midst of a fundraising campaign to build its new headquarters on the site of old Tiger Stadium.
This is a good thing. After Detroit's decades-long stadium saga, it's fitting to see the tradition of baseball continue at "the Corner." Senator Levin and the Old Tiger Stadium Conservancy could not have picked a better beneficiary than PAL. It is an upstanding organization, and its mission to serve Detroit's youth is an honorable one. They deserve a new headquarters, and the children of Detroit deserve our help.
However, starting in 2017, PAL plans to program the field with baseball, football, soccer, and other sports for 12 hours a day, 200+ days a year. That could take a considerable toll on Navin Field's historic grass, and so PAL feels that artificial turf is a more cost-effective solution.
But Major League Baseball groundskeeping guru Murray Cook, president of the Brickman Group in Rockville, Maryland, has an interesting take on the durability of natural grass.
"It's not really the amount of wear and tear," he says, "but the type."
Cook, whose résumé includes the 2004 Athens Olympics and the 2008 Beijing Olympics, says that games are easier on fields than practice.
"Regulating games by setting time limits will make everyone happy," he says. "This is what happens in tournaments around the world."
With this in mind, perhaps it's time to reconsider the future of Navin Field. Instead of putting undue strain on its environmentally friendly natural grass, why not use it instead as a showcase field for special events and various Police Athletic League championships.
PAL could still build its new headquarters on the site, and the field would retain its unique American character, not only for the sake of historic preservation, but also for the sake of tourism (both historic tourism and eco-tourism).
Today PAL uses about a half a dozen fields throughout Detroit for baseball. Some are in good shape, while others are in need of an upgrade. With the help of our dedicated army of volunteers (and a substantial amount of reserves), the Navin Field Grounds Crew stands ready to help PAL maintain safe and healthy playing fields throughout the city.
Once its new headquarters are ready, PAL could continue to use these fields for practices and games while its student-athletes compete for a chance to play on Detroit's coveted field of dreams.
The echoing green
Although it is perhaps somewhat ill-conceived, PAL's current plan is an ambitious and exciting one for Detroit. Whether artificial turf is actually cost-effective in the long run is subject to great debate, and installing it is no simple task. And the jury is still out as to whether its controversial crumb rubber is a safe alternative to real dirt.
For a variety of reasons,
artificial turf fields have spawned dozens of lawsuits
throughout the country in recent years. This is something we should be careful to avoid. With the affordability, safety, and durability of artificial turf being hotly debated across America, Detroit now sits at a critical juncture:
Do we take the plunge into plastic grass in order to support an increase in foot traffic? Or do we look for a green alternative?
Senator Debbie Stabenow, ranking member of the U.S. Senate Committee on Agriculture, Nutrition and Forestry, thinks Navin Field should remain a natural green space.
"You're doing great things at the field," she told the Navin Field Grounds Crew before this year's St. Patrick's Day parade.
"Let's keep real grass."
Senator Stabenow's sentiments are not unlike those of people we hear from every day — not just locally, but nationally. To them, there's something almost sacrilegious about tearing up the grass that's covered Navin Field (and before that, Bennett Park) since 1896.
But there are reasons to preserve Navin Field as a natural grass environment aside from mere sentimentality.
Anna Clark,
writing in Next City
, argues that we can make natural grass part of a sustainable long-term plan at the Corner:

If PAL is concerned about upkeep of natural grass, it should take note of how the community values it so much — volunteers already freely offer their time and tools to maintain it.
Today the city of Detroit is under a strict mandate to reduce the amount of sewage it dumps into the Detroit and Rouge rivers, and its repeated violations could end up costing the city millions. Urban green spaces like the one at Navin Field not only decrease the risk of flooding, they help to prevent excess stormwater from entering our beleaguered sewer system.
Natural grass also reduces carbon dioxide by converting it to oxygen. According to Boston-based attorney Guive Mirfendereski, replacing Navin Field's grass surface with artificial turf would only increase our considerable carbon footprint and further contribute to global warming.
Mirfendereski, a lecturer at Brandeis University and the managing editor of industry watchdog
SynTurf.org
, says that artificial turf is, in effect, a "lifeless eco-desert."
The real field of dreams
Last week on Opening Day in Detroit, hundreds of visitors flocked to Navin Field throughout the day, some just to revel in its history, while others came to play catch and run the bases.
As the Tigers were warming up for the the big game over at Comerica Park, Cass Tech High School's baseball team was getting ready for the 2015 season at Navin Field:
Because they have no other viable fields in the area, Cass Tech regularly uses Navin Field for its practices.
Over the last five summers, the volunteers of the Navin Field Grounds Crew have diligently worked to make the historic baseball diamond playable again, not only for Cass Tech, but
for hundreds of youngsters throughout Michigan
.
As we prepare to pass the torch to the Police Athletic League, we look forward to continuing to improve Navin Field for the city of Detroit.
And while there is still room for improvement, one thing that often gets overlooked in the discussion of Navin Field is the existing diamond's major-league configuration. This historic field is, of course, best suited for children 14 and up, who are physically equipped to handle its 60-foot mound and 90-foot basepaths.
Because the Tiger Stadium site is large enough to accommodate more than one playing field, a strategically placed Little League diamond in deep left field would effectively give Detroit not one, but
two
fields of dreams
("two for the price of one," as Ernie Harwell would say)
— one for the big kids and one for the little ones, with plenty of room for soccer and other team sports.
Here in Detroit we have the real thing, a historic natural-grass ballpark where nearly every baseball Hall of Famer (and many NFL Hall of Famers) has played over the years.
Hollywood's "Field of Dreams," on the other hand, is in Dyersville, Iowa. Yet despite its remote location, it is a mecca for baseball fans.
But imagine making the trip to Dyersville only to find that they've covered the field in plastic grass and replaced the mystical maize with a sea of plastic corn.
It would lose its appeal overnight.
That would never happen, of course.
In Iowa, tourists and locals alike revel in
the corn-fed fantasyland of fake authenticity
.
"What's out in front of you is real," says Ghost Player Marv Maiers of Iowa's "field of dreams."
But Maiers, of course, is fantasizing.
In an ironic new ad campaign, Major League Baseball is actively perpetuating the myth first created by W.P. Kinsella in 1982:
Shoeless Joe Jackson, alas, never played a game in Dyersville. He did, however, play many times at Navin Field. In fact, as a member of the Cleveland Naps,
Jackson scored the very first run of the very first game at Navin Field on April 20, 1912.
Splendor in the grass
When it comes to urban living today, green space is a highly coveted amenity. Prospective tenants of Navin Field's proposed new condominiums might hesitate to pay top dollar to look out their windows at a sea of plastic grass. In fact, artificial turf could actually drive away those who are concerned about its environmental impact.
Deborah Darin, a longtime Tigers fan now living in Milwaukee, is considering a move back to her hometown.
"The idea of a thriving city park with residential and retail, close to downtown — what a great thing that would be," she says.
But Darin balks at the prospect of artificial turf at Navin Field. Plastic grass, she says, is "antithetical to a modern city with green space."
The authentic dirt and grass of Navin Field could also help make it a more desirable destination for travel teams that will pay to play there. These teams will want to go home with real grass stains on their uniforms — proof that they played on the real field of dreams.
The roots of change
Today the Navin Field Grounds Crew stands poised to expand its mission to other local parks, such as Maheras Gentry, Manz Field, and historic
Hamtramck Stadium
, one of only six Negro Leagues ballparks left in America.
Just a stone's throw from Hamtramck Stadium, the forward-thinking
Detroit City Football Club is proposing to renovate Keyworth Stadium
, with plans to tear out its artificial turf and replace it with natural grass.
At this critical juncture in our history, perhaps the time has come for the Detroit Tigers to reconnect with their historic roots. To help Detroit usher in a new era.
On behalf of the Navin Field Grounds Crew, I'd like to invite Tigers head groundskeeper Heather Nabozny back to the site where she started her major-league career in 1999 during the team's final season at Tiger Stadium.
(Paws, you're invited, too.)
With Nabozny's expertise and a helping hand from the Comerica Park grounds crew, Navin Field and the city of Detroit can take a giant step forward.
Nabozny's alma mater, Michigan State University, is widely renowned for its turf-management program. Perhaps MSU's College of Agriculture might consider a mentoring program for students of nearby Cass Tech and Detroit Western high schools, who could learn firsthand the fundamentals of turf management in their own back yard and maybe even earn a college scholarship.
Together we can take Detroit to greater heights. We can honor our collective history while serving our children and protecting our environment.
We have a golden opportunity to show the country what can be done with an old ballpark.
Although the stands have emptied and the stadium is gone, our field remains the same.
---
The NFGC's weekly cleanups take place every Sunday throughout the baseball season. Volunteers are invited to Navin Field starting at 10 a.m.
---
Dave Mesrey is a founding member of the Navin Field Grounds Crew.
Email

[email protected]

.