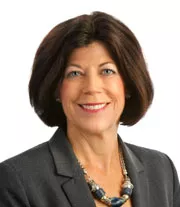 Update, March 19, 11:30 a.m.:
Terry Stanton, spokesman for the Michigan Treasury, sent an email to
MT
, saying Kopacz's firm, Phoenix Management Services, has been hired by the Detroit Financial Review Commission on a three-month agreement to "advise the Commission and Executive Director Ron Rose on financial matters related to the development and implementation of the City's four-year budget, as required by the so-called Grand Bargain legislation (PA 181 of 2014).
The agreement is not to exceed $150,000, Stanton says.
______________________________________________________________________________________________________________________________________________________
Martha Kopacz, who served
as an expert witness to Detroit's bankruptcy judge
, has been hired as an adviser to the state-mandated commission that was created to ensure the city adheres to its restructuring proposal, called a "plan of adjustment."
The announcement of Kopacz's role is expected to come Monday, when the nine-member
Financial Review Commission
will convene its monthly meeting. Kopacz confirmed the hire to
MT
Wednesday evening.
"They're going to use my knowledge with the bankruptcy and the plan to advise on the budget and [Detroit's four-year financial plan]," Kopacz told
MT
. She declined to disclose the terms of her contract, which was signed Wednesday.
Kopacz, senior managing director at the Boston-based Phoenix Management Services, has over 25 years of experience in "assisting stakeholders in analyzing business operations and reorganization possibilities," according to her biography on the Phoenix website. She has played a role in over 100 consulting and restructuring engagements, the biography says. Throughout her career, she has worn a number of hats as interim president, chief restructuring officer, chapter 11 trustee, collateral trustee, and examiner.
As U.S. Bankruptcy Judge Steven Rhodes expert witness, Kopacz filed
a 226-page report
on the feasibility of Detroit's plan of adjustment. In it, she explained the city's plan was feasible — but it had little room to take on new debt beyond what's already in the plan.
A call and email to the Michigan Treasury were not immediately returned Wednesday night.
The review commission was
created this past November
. The panel, established as a mechanism to garner support in the state Legislature to approve the so-called
"Grand Bargain,"
maintains authority over a number of fiscal matters in the city, including: the power to review and approve the city's four-year financial plan, approve or reject all contracts for goods and services worth at least $750,000, and review requests by the city to issue debt.
As Metro Times previously reported
, under state law, the commission will exist for at least 13 years, but it could go dormant after only three if stringent financial requirements have been met by the city. Detroit's Financial Advisory Board, created under a 2012 consent agreement with the state, has since been dissolved.
The commission will have to file bi-annual reports to the governor, which will be posted on the Michigan Treasury website.
Gov. Rick Snyder selected a majority five members of the commission: Stacy Fox, former deputy emergency manager of Detroit; Lorron James, vice president of Detroit-based automotive logistics firm James Group International; Bill Martin, former University of Michigan athletic director; Tony Saunders, former emergency manager of Benton Harbor; and Darrell Burks, former senior partner at PricewaterhouseCoopers.
Mandated members under state law that are also on the commission include: state Treasurer Kevin Clinton, who will serve as chairman of the panel; Mayor Mike Duggan, or a designee; City Council President Brenda Jones, or a designee; and state Budget Director John Roberts.
The commission's meeting on Monday — at 2:30 p.m. inside Cadillac Place, located at 3062 W. Grand Boulevard in Detroit — is expected to be the last for treasurer Clinton, according to a source. Clinton announced
his resignation
from the post this week.