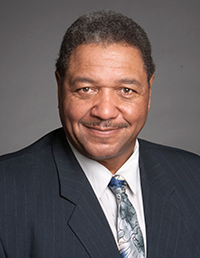 George Cushingberry Jr., Detroit City Council's second-highest-ranking member, won't practice law again anytime soon: The Michigan Attorney Discipline Board on Tuesday suspended his license for one year.
Cushingberry, a guy whose efforts as a problematic lawyer
have been known for years
but somehow ended up a non-factor in the run-up to his election, will have to pay $1,805 in costs, according to the order issued by the board. The decision follows a 45-day suspension the board issued in December after Cushingberry failed to show for a hearing, citing a "physical incapacity."
The events surrounding the suspension are dutifully explained by WDIV,
which first reported the tidbit last night
, so we'd rather focus on some highlight (lowlights?) in Cushingberry's legal career. In sum:
In 2003,
as Curt Guyette exhaustively explains in a MT cover story
, Cushingberry — then a Wayne County commissioner — was accused of fraud for a multitude of pleasant reasons. For instance, a Southfield resident sued Cush, saying he pocketed $118,000 from an estate he was hired to oversee worth $205,000 in less than a year. After the suit played out, Cushingberry eventually repaid the $118,000.
In 2013,
according to WDIV
, Cushingberry was sued for legal malpractice by a guy who hired the now-city council president pro-temp to represent him for a bankruptcy proceeding. From WDIV:
George charged $275 an hour to go to work for Mulholland. But things started out rocky until finally the rock rolled over Mulholland's head. Mulholland lived in Saginaw, his properties were mostly in northeast Michigan and he had an office in Lansing. So, Cushingberry filed the first case where Lansing debtors go, to Grand Rapids Federal Court. The problem: The bankruptcy judge ruled the filing was improper and shipped the case east to Bay City bankruptcy court. Mulholland needed only to hand off one property to the bank, yet for some reason Cushingberry decided it was a better idea to file Chapter 13 business bankruptcy in one case. This allows debtors to walk away cleanly after paying what they can. This sounded like a good plan at the time, except George missed an important part of the Chapter 13 rules: the debt level caps. Secured and unsecured debt combined can't exceed $1.3 million dollars.

That same year, he was sued by an Oakland County widow, who claimed Cushingberry screwed around with her husband's estate he was hired to oversee.
From Fox 2's M.L. Elrick
:
The lawsuit claims Cushingberry said he could take care of Mr. Hudson's unpaid medical expenses, as well as funeral expenses here at the Swanson Funeral Home. But Mrs. Hudson now says that was a lie.

Roxanne Hudson says Cushingberry took her husband's prized cars for joyrides before selling them off - without giving her any money.

I tried giving Cushingberry a chance to respond to Hudson's allegations but nobody was at the council office and nobody was at the house.
In early 2014, he was sued by a former client who
claimed Cush stole $30,000 from him
.
Cushingberry, remarkably, says he probably won't ever work a case again, telling WDIV his suspension was "indefinite by consent." There's a likely reason for that, as WDIV's Rod Meloni
explains
: He'd have to take the bar exam again. Oops.