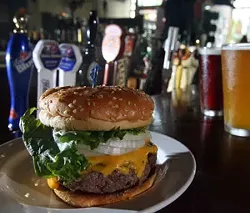 Linda French, owner of Ypsilanti's spectacularly popular Sidetrack Bar and Grill, is proud to have brought her bar "out of the Budweiser era and into the microbrew." She and daughter Jessica are emphatic that the Sidetrack is not a hangout for student swillers from Eastern Michigan University — though their prices would be appropriate for a college crowd. (Linda notes that at happy hour a customer can get 25 oz. of Guinness and a cheeseburger for less than $10.)
Their specialty, rather, is interesting beers: 16 drafts, including nine Michigan craft brews on tap, the highlight being Bell's Two-Hearted Ale. Others are Bell's Oberon, the biggest seller, Hacker Pschorr's Weisse, Great Lakes' Edmunds Fitzgerald ("best porter in the Midwest"), Huma-Lupa-Licious from Short's up in Antrim County, Woodchuck Amber hard cider from Vermont, and the only "lite" microbrew around, also from Short's.
Beer in bottles includes raspberry and cherry beers from Belgium, Bell's Stout, and Delirium Tremens, also Belgian, 9 percent alcohol and named "Best Beer in the World" at the 1998 World Beer Championships. And Stroh's.
Twenty-four vodkas, mostly flavored, and mixed drinks featuring such ingredients as peppermint schnapps, raspberry liqueur and ice cream are also big. A manager said the Caramel Appletini and the Grapesicle are popular, as are "kids at the end of the night doing Irish car bombs" (Irish Cream and Irish whisky in Guinness, slammed).
The Sidetrack is beloved by Ypsilanti-ans for its history and ambience. The building, a pebble's throw from the Amtrak tracks, has been a bar since 1850, according to French, a former antiques dealer, and it still uses the original, elaborately carved, dark wood bar. There's a tin ceiling and lots of taxidermy, including a snarling bear cub; fresh flowers are quite welcome if a bit incongruous in the bar-rish setting. It's a minor thrill to feel the trains rumble by (the earth moves) and hear the whistle blow, and some patrons request the patio; these are closely watched trains.
Every few months, Jessica French organizes themed burger-and-beer tastings for $20-$25, with five courses, five beers, and live bluegrass (see sidetrackbarandgrill.com). And every first Tuesday, amateur opera singers get to strut their stuff (make a reservation); my classical-musician friends love this one.
The undisputed star of Sidetrack's extensive menu is the burger. Five years ago, GQ magazine called it one of "the 20 hamburgers you must eat before you die," nationally. Linda says her exact blend of fat and flesh, supplied by Hiller's and delivered twice a day, is ground to her proprietary specs. It probably doesn't hurt that the cheeseburgers get two slices of cheese (nine choices). Mini-burgers sound particularly attractive: the Mini Driver with blue cheese, caramelized onions and bacon, or the Mini Pearl with roasted red peppers and feta.
If beer, burgers, history and trains aren't enough to be known for, the Sidetrack's prices are also noteworthy: big salads topped with chicken or salmon for $10, ribs for the same, a Reuben for $6.50. The one-third-pound burger is $5.75. There are two happy hours when a 25-ounce draft is $2.95: late nights every night, when all liquor is half-price, and 4-6 p.m. Monday through Thursday, when wine is half-price.
Trusting GQ that the burgers are indeed superb, I chose just to watch them floating by on the servers' trays, very tall, and later regretted it, as many of the other dishes I tried were not to my taste.
Guacamole was bland, both sweet potato and regular fries were limp, a whitefish sandwich was faintly spicy but otherwise weak on flavor. Barbecued pork was mostly just sweet, and pasta pesce, which read great — lake perch over fettuccine with fresh spinach and pinenuts — was oily.
I did like the giant, succulent portabella "burger" with provolone, underpriced for two caps at $7.95. And cole slaw, incorporating red onion, was refreshingly nutty.
Desserts marked "sharable" on the menu are gargantuan beyond belief. An $8.95 warm brownie with Guernsey ice cream and "whipped cream" could have been split by five or six without stinting — especially after downing the Sidetrack's other generous portions (an extra carafe of iced tea, for example, was brought with our order, and more was offered). Cherry bread pudding, the only dessert made in-house, was a solid compressed block.
I relearned at the Sidetrack what I've so often told readers: If a restaurant is known for something, there's a reason. Go with that.
Jane Slaughter dines for Metro Times. Send comments to [email protected]