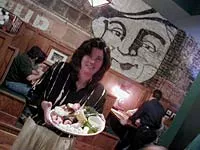 Lily's Seafood opened just recently and is already a hot spot. Attribute that to the stunning interior, friendly service and a kitchen that believes homemade is best.
There are some pleasant surprises on the menu, not the least of which are house-made root beer and cream soda. There are also four house-brewed beers. Three of us having dinner recently ordered root beer, cream soda and "Strange Stout." Three identically colored liquids came to the table. We didn't mind sorting things out because all were delicious.
One evening I ordered the Creole soup as a starter, and it contained more seafood and andouille sausage than I've had in jambalaya entrées at other restaurants.
That is typical at Lily's. One of my co-diners commented as we walked out, "I usually get filled up on the pasta. This time I got filled up on shrimp and oysters."
Dinner entrées contain a few misses among the hits. Recommended are: Gulf garlic shrimp and oysters, old country seafood boil, and -- for the seafood nonlovers -- sesame chicken salad.
The seafood boil features a house-made seafood sausage, which was luscious. (It is only in one other menu item, which is unfortunate; it would make a nice appetizer.)
Although my co-diner requested shrimp "rare" and our server asked questions to clarify the desired degree of doneness, the shrimp were still a little overcooked, so be sure to specify.
Pan-fried spinach and snow crab ravioli is a dish that should go back to the drawing board. The stuffing was so skimpy that it was overwhelmed by the leaden pasta and tomato-basil cream sauce.
On the same evening the vegetable was glazed baby carrots, great in themselves, but not what I would choose with an entrée dominated by tomato and basil. A choice of a salad would have given me an appropriate alternative.
Desserts are special at Lily's. Mom's key lime cheesecake is actually made by the owners' mom and brought in daily. It is a perfect blend of tart and sweet; it tastes light but you know it's not.
The Michigan cherry upside-down cake is a rustic dessert incongruously served with formally piped whipped cream. The Sanders cream puff brings back a hometown classic, and you'll wonder why it ever disappeared. It is another contrast of texture and flavor that harmonizes opposites.
Parents of fussy eaters will appreciate the kids' menu, and parents with baby sitters (and others) can enjoy the full bar.
Lily's has a well-financed look that is toned down by framed family photos. The interior is beautiful with lots of oak, exposed brick and a semiopen kitchen. Walk back to the restrooms and you'll pass the gleaming copper brewery equipment.
Unfortunately, on the nights I was there Lily's was out of Reggie's French River red beer. French River, on the north shore of Prince Edward Island, is one of the world's loveliest spots. You know you're there by three brightly painted boathouses in the middle of town. Just down the road is a drive-in diner that serves the best fried clams. But if you can't make it to French River, at least you can get some tasty seafood in Royal Oak.