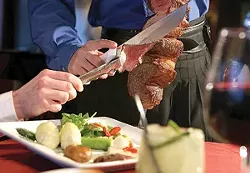 Lovers of excess, or lovers of meat, or lovers of excess meat: the Brazilian churrascaria (steakhouse) is your type of restaurant. At Gaucho, it's rodizio style, meaning all you can eat, and you don't even have to get up from your chair: A parade of servers offers sizzling skewers of beef, pork, lamb and chicken, and slice it for you tableside.
There's something sensual about the cooperation required for this ritual — the server carves and the diner uses tongs to catch the slice before it falls.
The salad bar is immense (here you do have to bestir yourself), with not only salad fixings (including prosciutto, chunks of Parmesan and smoked salmon) but soups, bread, risotto and upscale vegetables: asparagus, artichokes, hearts of palm.
Unhappily, it's only the amount of food that's impressive at Gaucho, not the tastes. Each food has one big, unsubtle flavor. The mushroom risotto — which in skilled hands would yield at least Parmesan and maybe cognac — screams only "mushroom." Butternut squash soup is nothing but sweet. Lamb is so minty no meat flavor can get through. Mashed potatoes, on the other hand, are mushy and tasteless.
I asked a random fellow patron what she thought of the place, and she said, "I like it, but you can't come here often." Not at $44 per person for just meat, mashed potatoes and salad bar. That's 22 percent higher than the late, unlamented Pampas in Birmingham, which, according to Gaucho co-owner Meto Fernandez, was owned by a Korean and gave Brazilian food a bad rep. (Gaucho's all-inclusive lunch price is $22; salad bar only is $27 or $16.)
Fernandez, who moved here to open Gaucho after working in a Brazilian restaurant in Chicago, is proud of his gas grill imported from Brazil, sized to fit the skewers, where the meats are rotisseried. Beef is seasoned with sea salt only, while lamb and pork are marinated.
I did my best to sample all 15 meats on offer. A few were delicious, some OK, a few awful. Some just seemed like a bad idea, such as filet mignon wrapped in bacon. Other cuts are leg of lamb, lamb chops, rump roast, beef and pork ribs, pork tenderloin, and legs and breast of chicken.
Best were top and bottom sirloin, alcatra and fraldinha. Both were juicy, with a straightforward beefy taste (duh), the top a bit salty. For a complete experience, be sure to taste both the seared outer layer, just a bit crackly, and the moister insides. On the other hand, a diner with limited capacity will want to be strategic and not accept everything offered by the servers, who materialize swiftly and carve briskly; it doesn't hurt their feelings.
Beef ribs were meltingly fatty and soft, delicious in my book. Chicken: ordinary, unless wrapped in bacon. The Brazilians do less well with pork (the gaucho tradition is cow-herding, after all, not hog farming), the tenderloin just dry and the baby back ribs plain awful — nasty and tightly cleaving to the bone. Sausage (linguica) is a bit spicy, and that bit is its one flavor.
The salad bar is impressive in some ways, but there are no dressings that wouldn't look out of place at Bob Evans (one way that Gaucho recalls Pampas). I'm thinking in particular of the bright orange "French dressing."
(Short digression on this sweet and peculiar foodstuff: I searched the Internet to learn how this quintessentially un-French food got its name, with no results. Equally lacking was an explanation of why anyone likes it, or why a restaurant with pretensions of grandeur would serve it.)
There's a full bar to help release any inhibitions about taking advantage of the one-price-fits-all rule, with wines from South America and California. Desserts, such as a papaya pudim, similar to flan, are $7 extra.
When I visited, a majority of the diners were Asian, and Fernandez says he has a big Japanese following, particularly among car company staffers. It's hard to imagine two cuisines more different than the spare and graceful Japanese and the over-the-top surfeit of a churrascuria rodizio. Fernandez hypothesizes that it's "not common in their country to have that abundance."
Yes, Gaucho is for those who seek abundance, quantity, overkill and mass magnitude or are in training for the NFL playoffs. (Some non-Asian patrons looked to fit that bill.) Any Christmas when we weren't in a depression, it would fit the season's mood perfectly.
Jane Slaughter dines for Metro Times. Send comments to [email protected].