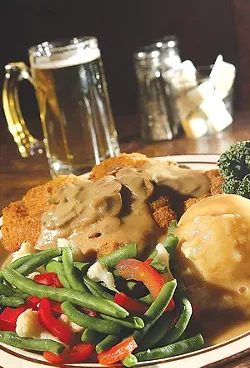 Not many Detroit restaurants have been around for more than 70 years. Even fewer have been owned and operated by the same family for as long. The Dakota Inn Rathskeller can claim both. Ask a native Detroiter about this historic establishment and you get some sense of how Dakota Inn has managed to persist, because even if they've never been there, they usually know someone, or someone's parents, with a story to tell about it.
The quiet neighborhood at the crossroads of John R and McNichols isn't exactly a hot spot for the dining crowd. In fact, the Dakota has pared down dining hours with lunch being served Wednesday through Friday and dinner Thursday through Saturday. Get there early on a Thursday evening and you might be the sole customer in the place.
The scene is completely different at seven on a Saturday night. Then the adjacent fenced parking lot will likely be full, with overflow spilling across John R and down side streets. Inside and through the heavy wooden doors is the din of mirth as friends and families assemble to celebrate birthdays and other life events, or just grab a beer and sausage.
It is a fine place to gather, with high ceilings carrying rustic chandeliers and cream-colored walls decorated with the stuffed heads of formerly hoofed animals, jackalopes, coat hooks and the look of stone arches. Scenic frescoes are painted inside the arches and wooden shelves and wall cavities hold steins of all sizes, wooden barrels and sundry Germanic bric-a-brac. The tables and chairs are made of thick, sturdy wood. The soundtrack is traditional German folk when there isn't live entertainment.
But there's almost always live entertainment at the Dakota Inn. They have several classic German festivals throughout the year: their own version of Oktoberfest, replete with tent and oompah bands, Christmas sing-alongs, Karneval through February and Maifest in May. On weekends with no festival, there is still raucous fun to be had as a performer leads the crowd in an earnest rendition of the customary German drinking song "Schnitzelbank" or sings his own version of "My Way." Enough glasses of good German beer and you might be up there with him.
Beer is, of course, another draw. On tap are a variety of Old World lagers, from pale to dark, a spicy and sweet hefeweizen, and currently a mild, roasty and wholly drinkable black bier. You'll find even more diversity in bottles, as they offer doppelbock, dark wheat ale and keller bier among many others. The variety of choice is on par and perhaps even surpasses Frankenmuth's Bavarian Inn — which declares it has Michigan's largest German beer selection. But Bavarian also has many of the usual domestic beers for the brand-conscious.
We found the most popular dish, entrée or side, to be the warm potato salad. Moist and tangy, with bits of bacon, it is a balanced and delicious thing. The potato pancakes are nicely crisped and appropriately served with garnishes of sour cream and applesauce. Start your meal with the cheese and sausage board or marinated herring fillets. A thick, rich and creamy "Reuben soup" comes topped with savory croutons and shredded cheese, and while quite good, bears little resemblance to a Reuben sandwich.
The Bavarian bratwurst and German knackwurst were pleasers; you can order them separately or a platter with both. Kassler Rippchen is a thick, hickory-smoked pork chop that tastes much like a large chunk of ham and is quite satisfying on a fork with a bit of the sweet-and-sour red kraut. The classic schnitzel comes plain, with mushroom gravy, or Switzerland-style, with just a small bit of mushroom, onion and a "Swiss cheese" that unfortunately tastes more like American white cheese. The breaded pork schnitzel ranged from tender and juicy to dry-ish, depending on the night. The spaetzle, too, was tender and fresh one night and a bit gluey on another.
This is comfort food prepared to please the great majority, no doubt, and much of it is good, though a few tweaks could easily bring their kitchen up to the level of the ambience without worry of verging on the realm of haute cuisine.
The Dakota Inn Rathskeller is a destination restaurant for a far different reason than most contemporary dining establishments that make that claim. From its 1933 origins as a tiny, three-stool German men's club to the family crowd today, as long as the Dakota Inn is around, it will offer vital memories of a changing and eclectic city. As one diner declared, "Even though everyone here lives somewhere else, it still feels like a neighborhood restaurant."
Todd Abrams dines for Metro Times. Send comments to [email protected].