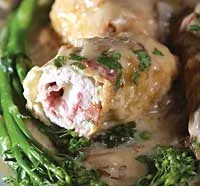 Once again, talented chef Artie Olivierio has circled the restaurant landscape in metro Detroit, and once again he's landed. It was an interesting flight, and it's a good landing.
In 1985, I reviewed Maria's on Walnut Lake near Inkster Road when it was not "by Artie Oliverio"; four years later I reviewed Oliverio's former Royal Oak restaurant, the one with the Mona Lisa fronting Woodward. The history of Maria's and Oliverio is all very complicated, especially when you toss in the other celebrated incarnations of Maria's.
In the early '70s, there was Maria's on Grand River in Detroit, which was bought by Carl and Joan Orlando in 1982, who moved it to Southfield; now it's in Ferndale. In the meantime, in 1978, cousin Jeff Valente opened Maria's in the burbs, where, in 1983, Oliverio presided over an upgraded kitchen for a little less than a year. After two decades of seemingly frenetic restaurant hopping — and his legion of food groupies' equally frenetic searching for him — Oliverio returned to Maria's on Walnut Lake a little more than a year ago as partner-chef.
In the more than two decades since he left, little has changed in the quaint, 136-year-old schoolhouse, with its two partially brick-walled rooms plastered with kitschy '50s-era film-star glossies. The well-modulated background music, mostly Italian pop or opera, contributes to a funky retro mood.
That's also reflected in the kitchen, where Oliverio leans towards traditional, heavily sauced Italian dishes, but often with unexpected and welcome touches. Although the complimentary focaccia is filling and the entrées are generously proportioned, it's hard to pass up his distinct and equally hefty appetizers ($6.99-$11.95). It won't be a low-carb adventure.
Characteristic is mozzarella alla Carozza — sautéed and lightly breaded thin slices of cheese, swimming in gently seasoned tomato sauce. More unusual is Oliverio's take on calamari, which arrives in a deep bowl, accompanied by a garlicky mélange of cherry peppers and prosciutto. Somewhat less surprising but equally satisfying is the perfectly sautéed shrimp Riviera awash in gentler olive oil and Vermouth.
As for the "comes-with" soup or salad, I'd go for the soup over the quite decent house salad. Here, pasta e fagioli, the classic peasant soup of northern white beans with (perhaps too much) pasta and bursting with garlic, is the choice by a slim margin over a blander, chewy lentil.
Oliverio has always had a way with veal. Typical of his skills is tender veal alla Siciliano — scaloppini with pine nuts, raisins (!) and eggplant in thick, pinkish wine sauce. Veal Francese in lemon-butter sauce is a bit lighter; other veal dishes, all of which come with a more-than-perfunctory pasta side, might involve spinach, mozzarella and prosciutto, or shrimp and olives.
The same sauces are the foundations for the chicken entrées. Here, chicken Marsala alla Arturo with prosciutto and mushrooms shares the billing with one of Maria's few lite specials — relatively unadorned spa chicken surrounded by tomatoes, mushrooms, basil and garlic.
Representative of the well-conceived and well-executed noodle dishes are pasta alla Matricina, featuring pancetta bits and onion in tomato sauce, and germeli garnished with pesto, basil, pine nuts, walnuts and Parmesan. The very full menu also offers beef and lamb entrées — several "a la Artie" — and such baked pasta dishes as canneloni and ziti, although the latter aren't available on weekends.
This is not the place for vegetables. When one in our party asked for a substitute for the pasta side, the only choice was broccolini, a hybrid of broccoli and Chinese kale that was interesting but overpriced at a $4.95 surcharge.
The long and intelligent wine list offers sufficient decent Italian and California vintages priced in the high 20s and low 30s, before ascending into the relative stratosphere. One sour note, and one that's not unique to Maria's, is a server's practice of returning with a considerably more expensive selection when the less expensive bottle isn't available. When thrifty hosts order a bottle for $27, they will most likely not be enthusiastic about accepting a $40 substitute, which, if rejected, may make them look like cheapskates to tablemates.
Aside from this peccadillo, the service at Maria's is highly professional, if at times a trifle too attentive. Kudos to our server who recommended Artie's Milanese zuccotto for dessert. It's an airy, layered, sort of chocolate ice cream cake with almonds, spiked with Grand Marnier, cognac and rum, which made for a splendid ending to a most satisfactory meal.
Artie Oliverio is one of our highly accomplished but peripatetic chefs, like Raymond Wong, who flits from restaurant to restaurant, sometimes as chef, sometimes as owner. In 1989, I wrote about Oliverio's in Royal Oak: "Few Italian restaurants in our community serve such fine food in such elegant surroundings at such reasonable prices — if only the restless Artie Oliverio decides to stay put this time."
Maria's is more cute than elegant, and its prices may be on the slightly expensive side of reasonable, but the message remains the same. Welcome home, Artie.
Mel Small, who reviewed restaurants for MT from 1982-85, is distinguished professor of history at Wayne State University, and has very good table manners. Send comments to [email protected].