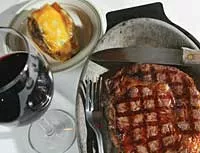 You know you are in for a retro experience when the hostess at the Clawson Steak House informs you that she'll have no problem finding a table as long as you don't mind sitting in the non-smoking section. The roadhouse-nightclub on Rochester Road, just south of Fourteen Mile, opened in 1958. It has remained in that decade for several generations of locals who flock there to dine on beef washed down with highballs or red wine, and to dance the night away to the rhythms of the Mark James Band.
Since it is not easy for a restaurant to make a go of it for 48 years, the members of the second generation of the Alexopoulus family, who own, manage and cook, must be doing a lot of things right. Moreover, amid the art-deco sconces, the heavy tablecloths and the partially liveried waitstaff, they have kept up with the times, as we shall see.
Aside from the mildly pricey signature steaks and chops, other dinners, which include soup and salad, average around $16. And the more than 100-bottle wine list, four-fifths of which are devoted to red wine, offers many solid selections well below $30. Obviously, the moderate cost of a night at the Clawson Steak House is one reason for its continuing popularity, especially for birthday and anniversary celebrations. Another is the overall dependability, if not flashiness, of its kitchen.
As you munch on the soft warm rolls and matzoh, an old London Chop House conceit, and contemplate the long menu that goes well beyond beef, be aware that the entrées are oversized. Nonetheless, the appetizers are worth a try, with delicate Mussels Casino ($7.95), steamed in white wine and clam juice, a better choice than the overly breaded calamari ($5.95), redeemed in part by a tangy tomato-basil dipping sauce.
Shrimp cocktail, escargot and — what else from a family named Alexopoulus — Saganaki (Opa!) are among other firsts.
As for the soup, even the servers describe the French onion as salty. For that reason, stick with other options, such as a respectable chicken-vegetable. One has few qualms, however, about the crisp, comes-with salad, lathered with a distinctively zesty house vinaigrette.
Considering the infrequency with which frogs legs ($12.95) appear on any menu these days, aficionados of those sweet little fellers should leap at the opportunity offered by the steak house's deftly seasoned rendition. (The French, aka "The Frogs," still eat more than 3,000 tons of frogs' legs a year, at around 40 legs to the pound!)
Moving from the water's edge to the briny, the garlic-encrusted pickerel ($14.95) scores over the OK whitefish and the pan-fried lake perch.
Meat, of course, is king here, which means that someone at the table should try Steak Paul, a grilled-to-perfection, thick and tender sirloin ($15.95) with a portobello mushroom and overly dense béarnaise sauce or, especially, two mammoth broiled pork chops ($13.95). Other trencherman-pleasing meat entrées feature the usual suspects such as Delmonico, New York strip, filet mignon and prime rib. Most everyone leaves the Clawson Steak House with at least one doggie bag.
The wide-ranging menu (over 40 entrées) also includes scampi, crab legs, Veal Oscar, chicken teriyaki, surf and turf, liver and onions, and, a more contemporary dish, blackened Ahi tuna. It should be noted, however, that recent health alerts have reinforced old fears about charred fish or meat and cancer.
Not surprisingly for the 1950s, there is not much here for vegetarians, although the angel-hair pasta, with mushrooms, asparagus, red bell pepper and sun-dried tomatoes in an oil, basil and garlic sauce, is more than perfunctory.
Fortunately, those feeling stuffed from this somewhat heavy meal can work off calories on the spacious dance floor between courses. Appearing Wednesdays through Saturdays, the versatile, three-piece Mark James Band, along with a vocalist, plays tunes from Tommy Dorsey for the early crowd, through Elvis, Motown, the Beatles, Latin, disco — and whatever else patrons might request. James has been headlining here off and on since the '70s. Many of the dancers, with their crisp and often showy routines, appear to have taken ballroom lessons.
Some of them eschew dinner entirely and hang out in the commodious booths of the large, bustling, and, not unexpectedly, heavily smoke-filled bar.
A bit of vigorous activity on the dance floor helps to justify dessert. One house-made delight involves a large (again) warm chocolate brownie, topped by vanilla ice cream, which, in turn, is covered with a five-inch mound of whipped cream drizzled with pecans and caramel sauce. A slab of smooth and cool Key Lime pie is a simpler option to close out the meal.
The Clawson Steak House is one of a number of the Detroit area's neighborhood restaurants that have been around for several decades or more, rarely attracting much attention from reviewers or food writers. Not on the cutting edge, unlikely to ever win fine-dining awards from anyone except small-town weeklies, they provide a time-tested variety of classic dishes at reasonable prices. With music for dancing and a tasteful old-fashioned setting and service, the Clawson Steak House is one of the best in its class.
Mel Small teaches history at Wayne State University. Send comments to [email protected].