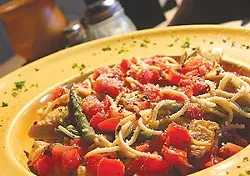 I last reviewed Maria's in 1991, when it was on Grand River in Detroit. Like an epicurean groupie, I followed it from a bizarre, short-lived ribs-and-ravioli partnership with Emanuel Steward to a brief appearance on Greenfield in Southfield, then on to pre-hip Ferndale where it anchored the restaurant scene for 15 years. Although memorable owner Joan Orlando died in 2004, the restaurant remained open until April of last year. Its longevity had a lot to do with how — aside from the prices and some of the original kitschy decor — little else, including the menu, changed over the decades.
David Brown, a longtime Maria's aficionado, reopened the cozy trattoria in its old digs on Nine Mile Road, a block west of Woodward Avenue, last October. Brown retained the name, most of the menu, and even purchased Maria's old recipes. But he did do considerable redecorating, painting the walls a soothing Tuscan yellow, and installing eye-catching metallic light fixtures, which, alas, meant dumping the old Italianate Christmas lights.
The place does look more sophisticated now, indeed surprisingly sophisticated for such a reasonably priced bill of fare. Brown slashed the previously low prices by about 25 percent so that entrées now average around $14. Moreover, instead of Maria's charming but limited choice of red, white and pink house-made wine, he scored a full liquor license from Ferndale's city fathers, and now boasts a serviceable list with most bottles under $30.
But, has he re-created Maria's? Foodie websites and local word of mouth have produced wildly divergent evaluations of the "new" restaurant, ranging from "better" to "worse." One problem is that Maria's was never a cutting-edge, Battali-like ristorante — those with fond memories of Orlando's kitchen appreciated its simple, earthy approach to Italian cuisine.
Brown has run into difficulty replicating the justly celebrated garlic-infused loaves of crispy pizza dough. On two occasions, his bland underbaked bread round was disappointing. He admits that the kitchen, perhaps because it is using a different kind of dough, has had trouble figuring out how his predecessors were able to create their ethereal version.
On the other hand, his spiedini alla Maria, a cousin of the grilled-cheese sandwich, is a delicate blend of toasty bread with lemon butter and warm mozzarella oozing out between the layers — although I would rethink the olive garnish. Other appetizers are frito misto, calamari, sausage and peppers, and bruschetta.
Dinners come with soup or salad and a pasta side (take the meat sauce over the marinara). The crisp green salad with dried cherries is fine, although the balsamic vinaigrette that caresses it is no match for old Maria's vaguely Caesar-style dressing. In any event, the salad is a better bet than the curious minestrone that contains few vegetables and tastes of bouillon.
Another longtime favorite, spinach tortellini, appears among the six "old" Maria's pastas. The admirably al dente ricotta-filled tortellini in a thick pesto-cream sauce and (too few) pine nuts remains an inspired creation. Although the Parmesan cream sauce in which shrimp and roasted red peppers may be a little heavy for some in another traditional pasta preparation, the meaty jumbo shrimp were substantial considering the modest $16 tariff.
Brown has added five new pastas, highlighted by lobster ravioli, consisting of several gargantuan ravioli, a bit light on lobster stuffing, smothered in a rich, dense vodka-cream sauce. In this category, one also finds the interesting pasta diablo with broccoli, artichokes and sun-dried tomatoes in oil and garlic enlivened with red peppers.
The rest of the menu includes seven chicken, six veal, and only two fish selections. Missing is the previously crowd-pleasing tutto mare and shrimp piccante, as well as beef dishes. Among the chicken options is a piccata rendition, served old-style with artichokes, capers, in a distinctive white-wine lemon sauce or new-style with onions and capers. The ample portion of breast, at one visit, was tough. However, the smaller chunks of chicken breast were perfectly tender in the polla di mare, replete with jumbo shrimp, artichokes, and another overabundance of olives in a lemon-wine sauce.
The decent portion of meat in the veal Marsala ($16) was tender as well, floating atop a savory wine sauce. In something of an anomaly, one can also order chicken Marsala with mushrooms and a pasta side or pasta Marsala with chicken and mushrooms over fettucini, both of which are priced at $14. Like the previous management, Brown offers round pizzas and, for dessert, cannoli and tiramisu.
In many respects, the new Maria's does resemble the original, albeit with a few welcome changes and, unfortunately, a few items that miss the mark. Nonetheless, David Brown should be commended for bringing the beloved old place back to life. Whether his Maria's is close enough to the original for loyalists to return or original enough to attract new patrons remains to be seen.
Mel Small teaches history at Wayne State University. Send comments to [email protected].