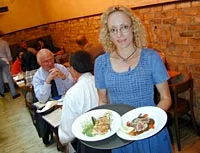 With just 60 seats and a well-deserved reputation for wonderful fish, Streetside Seafood fills up fast every day of the week. A menu supplemented with three or four daily specials keeps things lively even if you're a regular at this tiny eatery.
Five cold and five hot appetizers are offered. The Jonah crab is served on a bed of diced avocado, covered with a blanket of alfalfa sprouts and surrounded by a citrus vinaigrette. The crab meat is so sweet, you may suspect it lived a luxurious life before coming to Michigan to feed you.
The Asian crab rolls are more complex, and I felt like the crab got lost. I would have preferred a spring roll wrapper or even a lettuce leaf to the heavier egg roll, which overwhelmed the meat.
Soups, in two varieties, change daily. One day we ordered a gumbo chowder, and on another a crawfish bisque. Both were outstanding. The crawfish was tangy and smooth, while the gumbo chowder featured lots of chunks of seafood and Andouille sausage.
Streetside owner Bill Roberts, who also owns 220 and Beverly Hills Grill, says, "You can go all over the world with seafood."
The whitefish, for example, is a "Midwestern" presentation with a choice of potato-crusted, Parmesan-crusted, or in a lemon-butter sauce. I chose the last, and was delighted with the delicate fish, dotted with capers and cooked with artichoke hearts and lemon slices that were so tender I ate them, rind and all.
For an Italian influence, my co-diner ordered the lobster and shrimp scampi, which was a little more complex than the menu suggests, with a very light tomato-wine sauce. Again, the shellfish was incredibly sweet.
You can also do Creole, with shrimp étouffee or seafood jambalaya, or French with a Chilean sea bass served in bouillabaisse.
"I very much believe in simple, well-prepared food that is well seasoned," says Chef Sharon Juergens. "A lot of young chefs try to impress the customer with too many things happening on the plate."
A case in point is a daily lunch special of a freshly ground tuna burger served on an onion bun with housemade potato chips. It is simple, unusual, delicious and a substantial lunch, a bargain at $9.
The house salad is excellent, mixed greens with lots of blue cheese, but no bargain for a small portion at $3.75.
The wine list is not overwhelming, and everything is available by the glass. The pinot grigio is from Italy and is, with its crisp lemony taste, an excellent accompaniment to fish.
A shiny copper bar dominates the front half of the narrow space, with most of the tables in the back (though there are three in the front window).
Exposed brick goes halfway up the wall and then turns into a kind of eerie seascape of mounted fish painted an antique white, with the same mottled treatment to the walls.
I loved the name "Streetside." After all, you can't be "seaside" in Michigan. A little scroll on the front window reads "Since 1995," which made me smile. Five years isn't long for a "since."
But Streetside Seafood will grow into its scroll. It has a loyal clientele, as befits a kind of a neighborhood spot where you might run into a friend.
"We wanted it to look like it had been here forever," says Roberts. With any luck, it will be.