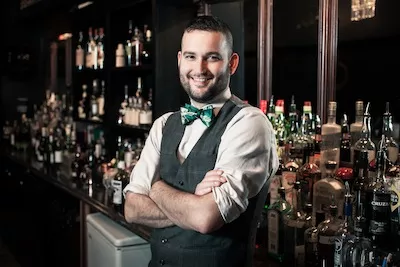 When it comes to hip new restaurants opening, Detroit has been the hottest spot. And so it came as little surprise that of the hippest players in the area's drinking and dining scene, Sandy Levine of Ferndale's Oakland Art Novelty Company, was opening a new dining spot in Detroit.
The eatery, dubbed Chartreuse Kitchen & Cocktails, will take over the spot formerly owned by Torya Blanchard's Rodin, in the Park-Shelton at Kirby and Woodward. The idea is to have food that's fresh and local, and the name of the chef was a small mystery tantalizing the engaged crowd of hip diners who belabor such topics.
Well, the ever-gracious Levine got in touch recently to let the cat out of the bag, naming the chef-elect. His name is Douglas Hewitt Jr., better known as executive chef at Terry B's in Dexter. He trained at Schoolcraft College, and has been at Terry's for almost a decade, steeped in American fusion cuisine. It also suggests the restaurant will be serious about not just drinks (with Levine's obvious influence) but wine as well.
The restaurant is scheduled for a March opening. Best wishes to Levine and Hewitt as things come together over the next several months.