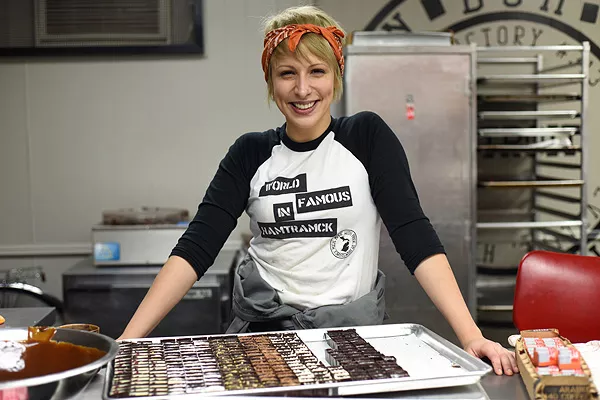 Everyone's wearing tuxedos and evening gowns, and most people are carrying instruments. We're backstage at the DSO, and the air is filled with the electricity of a performance about to begin.
But we're not here for a show. We're hunting for truffles.
Chocolate truffles to be specific, and Pete's Chocolate Company's truffles to be exact.
Pete Steffy rents out a kitchen here in the basement of Orchestra Hall, and when we find him (you follow your nose), he and one of his assistants have several flavors in progress: cinnamon cayenne, raspberry white chocolate, rosemary sea salt ... all fantastic.
"We make all of our truffles extremely fresh, by hand, in small batches using Belgian chocolate, locally produced dairy, and the best quality all-natural ingredients that we can find," Steffy says. "Nothing artificial and no preservatives."
Steffy been making traditional hand-rolled truffles for about five years now, and is part of a burgeoning artisan confectionery scene here in Detroit. He got his start as a chocolatier in the south of Mexico ("the original homeland of chocolate as we know it"), where he studied the art of chocolate in a truffle-making class with a chocolatier named Iván Arce. Back in Detroit, he started experimenting with flavors ... and ending up with way too many truffles. That surplus led to a successful booth at the Rust Belt Market in Ferndale and, eventually, Eastern Market, weddings, events, and a wholesale business.
"I've always really been into food," he says, "but I never was so much into sweets until I started doing this. I've always loved chocolate, though. But if you told 18-year-old me that I'd be running a chocolate truffle business, I probably would've been surprised — it's great how these things work out because I love doing it."
"I've spent most of my life in Detroit," Steffy says, "and I haven't opened a business in any other city, but I've been really impressed with how supportive everybody is of each other here. And I get the impression that it's kind of unique to Detroit. Everybody's trying to do positive things for the city; there's this kind of environment where all these different confectionery businesses — we're all in indirect competition with each other, but everybody's really cool, and I've had a great relationship with all these other businesses."
One of those other businesses is located in the Morningside neighborhood on the east side of Detroit. Run by Michele Bezue, Sweet, a Confections Boutique, just opened its doors in mid-October of this year. Sweet carries various local confectionery products from Pete's Chocolates, Chewy's Gourmet Kitchen, and Crème Detroipolis, to name a few. But the focus here is on Bezue's own Sweet Artisan Marshmallows — "we call them culinarily inspired, wildly creative marshmallows," she says, and we certainly can't disagree after trying triple berry balsamic, chocolate chipotle, and vanilla java porter marshmallows (the last being made with, that's right, Atwater's porter of the same name).
Raised in Hawaii in a Latin family, Bezue says food has always been a focal point. "It's a huge food culture in Hawaii, and I'm Latin," she says. "Food is the center of our lives."
Bezue started making marshmallows about a year ago, when she fell in love with the process. Inspired by Detroit's DIY, can-do attitude, she learned to make her own marshmallow syrup with invert sugar (rather than the corn syrup you'll find in mass-produced marshmallows). She makes her 'mallows all natural, with all-natural flavors.
"I love everything about doing it, and I love the reaction," she says. "I love making people happy. Particularly in confection, you really have to have your heart and soul in it. If you want to be a real confectioner, if you really want people to connect with your products, I just think you really have to put yourself into it. It's really about sharing with people. And I'm big on giving ... you're always gonna get it back. And I also think that you have to love people. You want to do what you love, and you want to love people, and give them what they want."
Another thing that people want is bonbons.
Bon Bon Bon, in Hamtramck, just opened in July of this year. But to talk with proprietor Alexandra Clark, it was just the logical next step in a lifetime love affair with chocolate.
"It never occurred to me to do anything else," she says. "In our family it's really something special — I mean, chocolate's taken really seriously. This is something that's very much respected; it's kind of a noble occupation. I mean, my sister's a surgeon and I'm a chocolate maker, and our family treats that exactly the same."
Clark, 26, spent years working the chocolate circuit from Chicago and Boston to Colorado and Norway; she knows her stuff. With her staff of five, she blends seven different types of chocolate, all from farmers from South and Central America. All of her other ingredients are local to Michigan.
But wait — what precisely is a bonbon?
"Something that's coated in chocolate," says Clark. "There is no international definition. It leaves room for creativity for us." And indeed, the creativity flies high in this tiny kitchen: from the High Tea (Earl Grey tea and cream ganache with hemp seed nougatine and smoked sugar) to the Gin & Juice (fresh fruit with gin essence and candied juniper berries), it seems nothing is off limits.
"It's definitely an art," she says, "I like it because it's an art and a science. For me it's really easy to express myself in it. So we can be creative; I mean, all of our flavors are kind of out there. But that's the point — it's fun. And they can change. And the real art is in the interaction and the surprise in people of what they think they like and what they don't know about, what they're willing to try because they're here."
Bon Bon Bon is open for walk-ins only on Saturdays ("But we have a Champagne clause. If you come during the week and bring a bottle of Champagne ..."). Between the retail business, wholesale, and special events, there's not a lot of downtime — and one gets the sense that that's exactly how she likes it. Clark is adamant about keeping Bon Bon Bon small and local, though.
"The whole point is that it's a chocolate shop for us [meaning Detroit]," she says. "Detroit hasn't had an artisan chocolate shop since the '70s. In Paris, it's like every neighborhood has its own chocolate shop. It's not unreasonable for Hamtramck to have an artisan chocolate shop."
Will Bon Bon Bon ever expand into other products?
"No. Strictly bonbons. Bon Bon Bon makes bon bonbons. And that's it."
These three Detroit confectioners are the sugary tip of a growing glazed iceberg of local folks making high-quality palate-pleasing products using as many local ingredients as possible. See their websites for more info on getting a taste of their sweets.