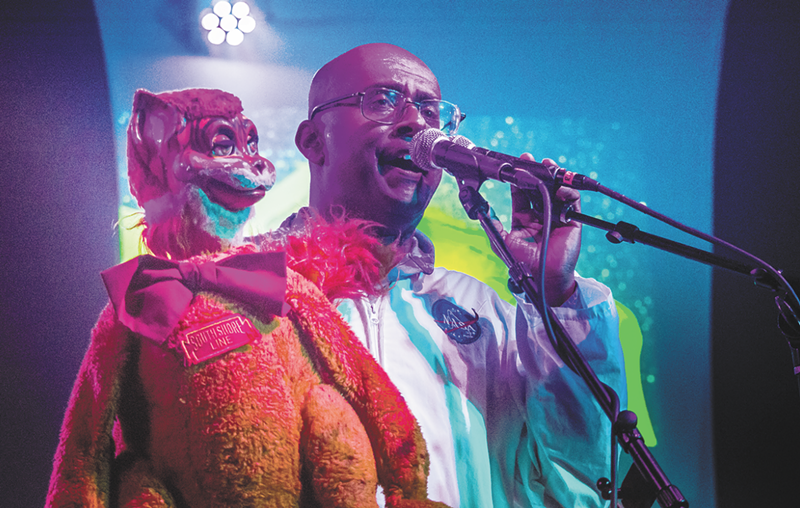 David Liebe Hart cares about three things: trains, aliens, and finding love. But mostly, trains. The dude can discuss the Chicago Milwaukee North Shore Railroad — which, to his dismay, discontinued rail service in 1963 — for hours.

Fans of Hart's eccentric puppetry and off-key vocal talents know that the Christian Scientist public access star-turned-Tim and Eric Awesome Show, Great Job! surrealist prop is a bit of a wildcard. For the uninitiated, Hart is a comedy icon and sometimes it's hard to tell where the joke ends and the man begins. Regardless of where you fall on the comedic spectrum, Hart's material has a pretty wide range. Again, he friggin' loves trains, aliens, ghost dogs, ghost frogs, and pretty ladies (but hates porn). Experimental beat maker Whatever Your Heart Desires will open, along with one of Hart's original puppets, Chip the Black Boy, who has apparently developed a mind of his own. Curious? Us, too. Scared? Definitely.

Doors open at 8 p.m. on Friday, Sept. 20; 2932 Caniff St., Hamtramck; 313-462-4117; sanctuarydetroit.com. Tickets are $10+.


Get our top picks for the best events in Detroit every Thursday morning. Sign up for our events newsletter.