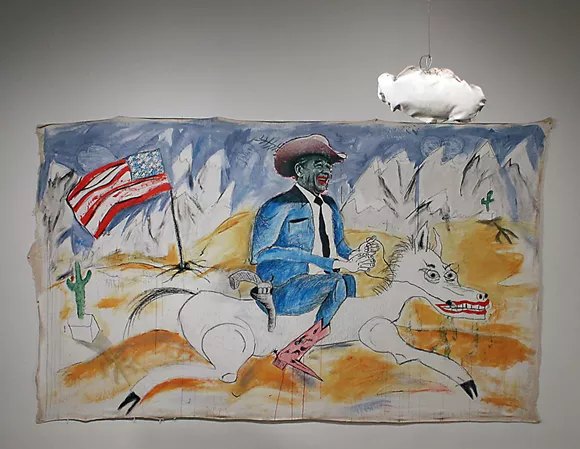 Is anything more American than beer, bacon, and bullets? The answer, of course, is no. That holy trinity is also the name of an art show featuring work by Matthew Hunt, Angelo Conti, and Alexander Buzzalini that opens this Saturday at Public Pool gallery in Hamtramck.
The three artists each represent a different "B." Hunt humorously weaves together "trains, American folklore, and the Grateful Dead song 'Casey Jones' to tell a story" representing beer. Conti has made casts out of food, including a cast iron slab of bacon (complete with "a blood patina"). And Buzzalini mines imagery from the Old West to represent bullets; that's his painting of former Cowboy-in-chief Ronald Reagan above.
The show opens from 7 p.m. to 11 p.m. on Saturday, November 8 7-11 p.m. at the Public Pool Gallery, 3309 Caniff Ave., Hamtramck; 313-405-7665;
apublicpool.com
. It runs until Dec. 20.
Read our Studio Visit from earlier this year with Alexander Buzzalini
here
.