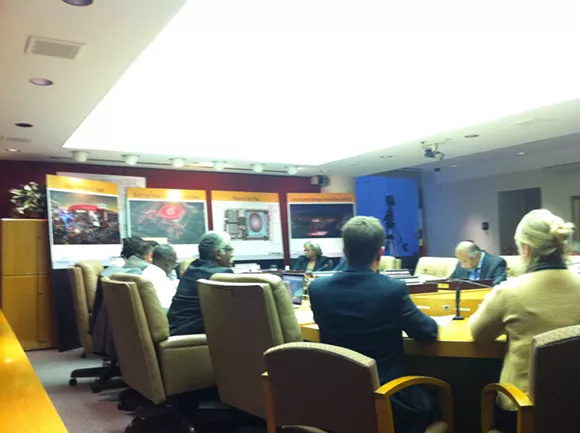 Richard Heapes, a contractor involved in the proposed new Detroit Red Wings arena in downtown, says there's no silver bullet to resolving Detroit's longstanding problems.
His comment came in response to a remark from Daniel Klinkert, a member of Detroit's City Planning Commission, who wondered aloud Thursday night how a new $450 million arena was any different than Ford Field and Comerica Park. Meaning: Why will
this
arena generate the spin-off development some say will materialize and cause fans of the Detroit Red Wings to leave the facility and actully visit other areas of downtown, rather than remain inside?
After two stadiums, three casinos, "the city still went bankrupt," Klinkert says.
Heapes counters, saying he and Olympia Development of Michigan (ODM), owner of the Detroit Red Wings who will develop and manage the new arena, believe the arena and proposed adjacent development will attract additional investment.
The only silver bullet, Heapes says, "is people living here." And, Heapes contends, this project will attract new residents to the city.
Whether that sort of immense impact will happen remains to be seen. Studies on the economic impact of sports stadiums have showed economic impact projections have, more often than not, failed to materialize. ODM presented a proposed rezoning of the 13-acre arena site during a pubic hearing held by the city's planning commission on Thursday.
The hearing followed decisions earlier this week by Detroit's Downtown Development Authority (DDA) and the Michigan Strategic Fund to approve
a $450 million bond sale that will support arena construction costs
.
As part of the site plans offered by Olympia Development of Michigan (ODM), the real estate arm of Red Wings owner Ilitch Holdings Inc., the City of Detroit would permanently vacate a number of streets, including: Park Avenue, between Henry and Sproat, as well as Sibley Street between Clifford and Woodward.
ODM says it would construct a piazza near the arena that's half the size of Campus Martius to serve as sort-of public space prior to events. Heapes, of Street-Works Development, says ODM would like to have the space available for use in the summer or wintertime.
"We're going to have a plaza that gets used 12 months a year," says Heapes. A glass-enclosed street, which Heapes called the "Via," would surround the perimeter of the arena; he says it could resemble a glass-enclosed street located in Milan, Italy.
A stop along the proposed M-1 Rail would be located at the northeast corner of the arena at Sibley and Woodward.
Heapes also indicated that ODM has "the mindset" of how to incorporate historic structures currently located within the arena site. During public comment, Amy Ellliott Bragg, president of the board of directors at Presentation Detroit, offered support for the idea and says she's interested in hearing about the possible inclusion of those buildings.
During his presentation, Heapes raved about a glass-enclosed city street that ODM wants to construct along the perimeter of the arena that could be similar one in Milan, Italy, the
Galleria Vittorio Emanuele II
.
A parking structure with 1,200 spaces will line Cass Avenue between Henry and Clifford streets. ODM proposes to build 184 housing units along the western and southern edges of the arena. This would include mix of efficiency lofts and studios, one- and two-bedroom apartments, and 16 townhouses.
As Heapes put it, those residential units "would allow you to literally live at the arena so to speak. (Perhaps the question now is who wants to live near a hockey arena? Heapes says it would likely attract the vague demographic of "young people.")
ODM also asks for restrictions on what type of business can be authorized in the arena site; under the proposed rezoning, topless strip clubs, gun shops, and even tarot-card readers would be banned from the so-called catalyst development district.
The 785,000-square-foot, eight-story arena will be situated in an area bounded by Woodward Avenue, Henry Street, Sproat Street, and Clifford Street. A groundbreaking is slated later this month, with the majority of construction expected to begin next spring. The arena is expected to be open in time for the National Hockey League's 2017-2018 season.
Meanwhile, the financing plan approved by the DDA included a number of significant changes to the structure approved by all parties involved
last year
.
Under
the new financing plan
, a $15 million cap on the use of state school taxes the DDA can legally spend toward retiring the bonds has been lifted at the request of Bank of America, one of the two financial institutions expected to purchase bonds for the project. The new plan also indicated the DDA anticipates it will enter into an interest rate swap on $200 million in bonds that will be secured by revenue from ODM.
A city official said the planning commission could take a vote on the proposed rezoning as early as its Oct. 16 meeting.