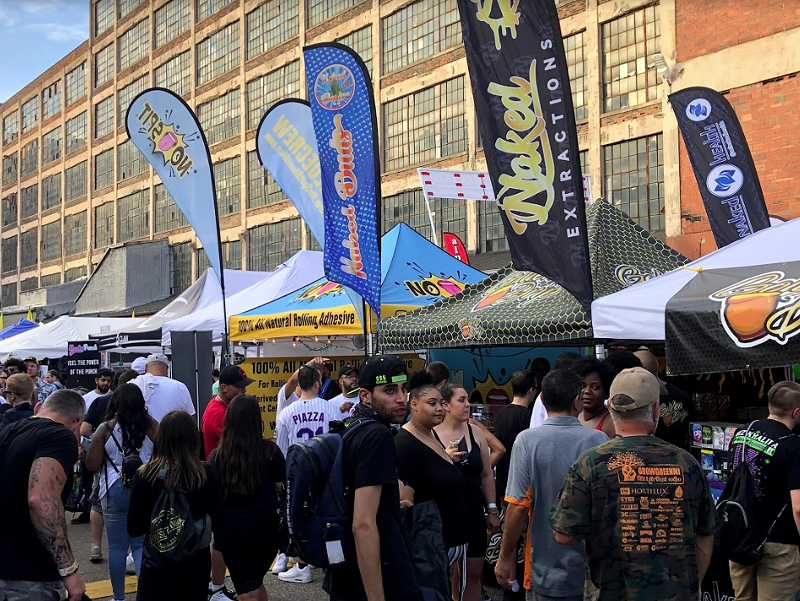 High Times
magazine returned to Detroit with its long-running Cannabis Cup event over the weekend, bringing thousands of people through the Russell Industrial Center over the course of two days to try some of the best cannabis and cannabis-products in the state.
Since Michigan voted to legalize recreational cannabis use in November, this was the first year guests did not need a medical marijuana card to attend. Attendees could sample strains, medicated edibles, oils, tinctures, and more, from vendors like Nug Abduction extracts, Golden Glove Extracts, House of Dank, Dab Smith, and Tree Top Labs, among others. There was also food from local food trucks for when people had the munchies.
On top of weed, guests could buy gear, learn about grow equipment and new extraction methods, and sample new hemp products. The event also hosted many CBD booths focusing on a non-psychoactive component of cannabis, which is believed to have other health benefits.
When doors opened at 1 p.m. on Saturday, lines to get in stretched almost completely around the perimeter of the building with thousands waiting to gain entry. Despite waiting outside, guests wasted no time, sparking up joints and blunts and starting the smoke sesh before they even got inside.
Once inside the Russell, the flow of people throughout the space was smooth and fairly negotiable. Despite the heat, free water stations and THC-infused drinks and ice cream helped many people cool down.
The Cannabis Cup is also known for bringing in big-name musical guests known for their marijuana advocacy. This year artists like Trick Trick, 2 Chainz, and Wu-Tang Clan performed, bringing with them high energy to get the crowd going after a long day of smoking.
The first-ever Cannabis Cup was held in Amsterdam in 1988, with winning strains of bud that look very different than the stuff you'd find today. Since its beginning, the event has seen its ups and downs. In Michigan,
High Times
held its first Cannabis Cup in Detroit in 2011 at Bert's Warehouse Theater, but after police told guests they couldn't smoke and even arrested some attendees, the Cup took a three-year hiatus until 2014, when they returned to Michigan at Auto City Speedway in Clio.
The Cannabis Cup returned to Clio in June, so this was the second Cannabis Cup in Michigan this year. We're sure we'll see more cannabis events once recreational marijuana becomes more mainstream.
It's a new era for marijuana in Michigan. Sign up for our weekly weed newsletter, delivered every Tuesday at 4:20 p.m.