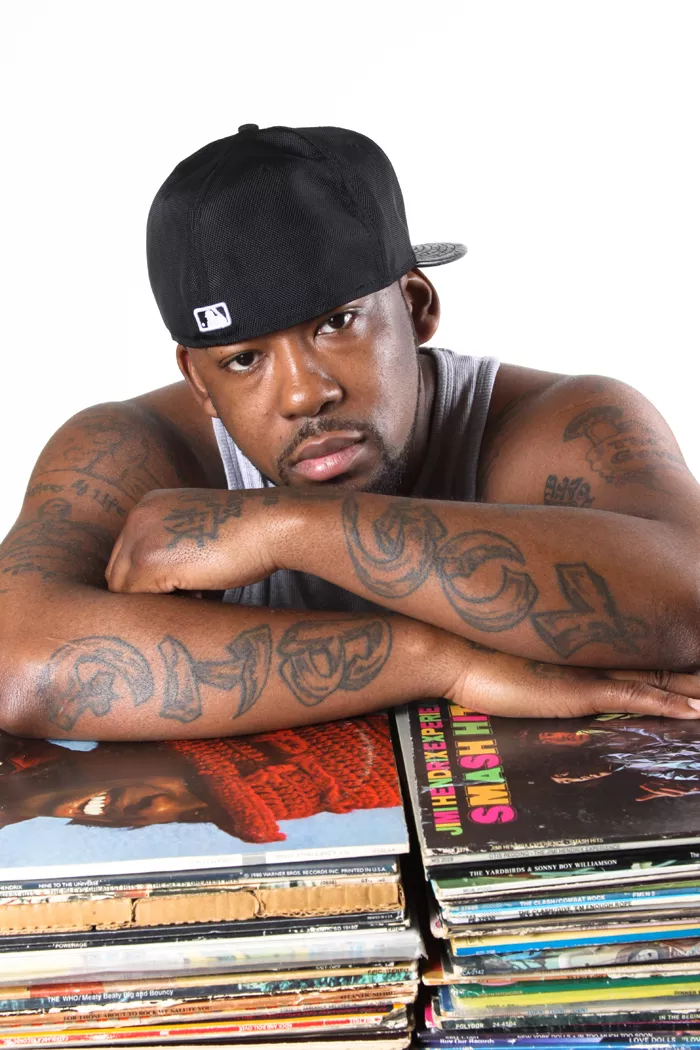 Take a listen to rapper Big Gov on Reverbnation, and it's hard not to think that you already know the man. The lyrics are hard and uncompromising, packed with expletives and calling out those he deems worthy of public, musical ridicule. The photos show a man ready for business, action, or both. Big Gov ain't messing around.
After spending an hour in his company, we find that Big Gov (he doesn't want to give away his real name) is an articulate family man with a sharp mind, a keen business sense, and, basically, a good head on his shoulders. He's good company, giving us a tour of his Southfield office space before sitting down for the interview.
Yeah, Big Gov and his Black Guvernment record label are based in Southfield, on 12 Mile Road, in the plainest, most unspectacular office building that he shares with an Internet startup and a medical practitioner of some sort. In fact, when we initially arrive and ask those neighbors to direct us to the record label-studio, they have no idea that such a thing is going on in the building. Big Gov, who was born and raised in Detroit, has his reasons for being in the burbs.
"We made the decision to come out here on a more professional level," he says. "You have some artists that come into town and they're comfortable with being in the hood. That's cool. Then you have other artists who fear for their safety. They're right to. So you have to come out here to accommodate everybody. I think Southfield is not too far from Detroit, but it's a decent place to be when you're conducting business. That was the decision we made."
Gov, 34, got his musical education at an early age; his father was Greg Finley of the late-1970s Detroit soul group Five Special that was signed to Elektra Records and managed by Ron Banks of the Dramatics. "His catching wind that I could put a couple of words together — he put me in a studio, and I recorded a whole song at the age of 5," Gov says. "That was 1985. I've been going strong since then. I took it seriously since Day One."
In typical Detroit 8 Mile fashion, Gov spends his days on the assembly line for Chrysler, where he says he writes a lot of lyrics. "Being an independent artist, you have to do what you have to do to fund your career," he says. "You've got to fund it. This whole music thing is driven by money. If you don't have the budget to market it and promote, you need to find something else to do."
Gov is wearing a Red Sox hat when we meet, but it has nothing to do with his baseball allegiances — his crew adopted the Boston "B" to represent the Black Guvernment label. In fact, the man is all about Detroit and stood side-by-side with Trick Trick recently during the Rick Ross "no fly zone" concert cancellation.
"The thing is, what's personal between Rick Ross and Trick is personal between them," Gov says. "A lot of people have this misunderstanding of Trick, like he's some bully, and you can't come to the city unless you pay a fee. It's not like that. He's basically standing up for all the artists who don't have the platform to stand up for themselves. It's time for Detroit to embrace the artists of Detroit. There are a lot of artists in Detroit who are [artistically] killing the artists of the industry. Is it fair that the radio and media don't recognize these guys? It's not fair at all. You've got guys who put their all into what they do, like myself. Trick is a stand-up individual. He's an honest individual, and he's not a bully. He's just standing up for what he believes in. If you don't stand up for what you believe in, you'll die for anything."
Despite his issues with media representation, Gov is happy to be a part of the contemporary hip-hop scene in Detroit. "It's changed a lot, to be honest with you," he says. "I feel like this is the best that it has been in a long time, since the Awesome Dre/ Detroit's Most Wanted era. I feel like we're getting back to that. Everything is good. The music is taking a more professional, industry-standard approach. I love it. I'm just honored to be a part of the movement."
Gov started the Black Guvernment label in 2001. "I'm the CEO," he says. "The name comes from me being a bit of a government nerd back in high school. I like to always feel like I run things. I felt at the time like we had the talent, we had the crew that I felt like no one could touch. We had a nice buzz in Detroit, and I felt like we were running Detroit at the time. The name felt right. We've been consistent over the years. Even though our buzz could be a lot stronger here in Detroit, we chose to take it elsewhere. We're big on the West Coast, and we're big in the South. The East Coast is picking up on us real heavy now. Big Scam is my partner and CFO. Also involved are Jake Diamondz, Phenom, DCKdaKing, and then you have my son, Lil' Gov."
When Gov talks about his son, he lights up like the proud dad he is. "I have to sit back and watch him and smile," he says. "It's emotional for me because I'm watching him go through the same steps that I went through. Just to see that his interests are what it is in doing music, I couldn't ask for nothing more. He wants to follow in my footsteps, but he's actually doing a better job than I did at his age. He's 14, but he has a lot to be inspired by. It's not the typical 14-year-old flow that he has. You could rank him with some adult rappers. That's the good thing about it. He listens to everything, all types of hip-hop, he takes bits and pieces, and he creates his own potion. He can adapt to any style. He's ready."
As we sit and talk, it's hard not to notice the NRA sign hanging by a bunch of targets. To be honest, it preys on our mind a little and eventually we have to ask about it. "One of the partners who's in the building, he teaches self-defense classes," Gov says. "We're doing a lot of moving around, trying to accommodate each area of what we're doing. We've got the music going on in the offices, we have this going on out here, video and photography going on in this office here. We're trying to cover the market with multimedia and even self-defense."
Big Gov currently has four recorded projects available — The Debt Collector, No Mo Mr. Nice Gov, The Goondocks mix tape, and the Best of Big Gov mix tape — and he's about to drop a new album. "I'm about to drop The Debt Collector Reloaded, which is the sequel to The Debt Collector," he says. "That's coming out this month, which is the reason for the concert. I'm trying to take it to the next level. I'm going to be performing with a live band, and it's the first time I've done that. The Debt Collector has tracks that you can play live. The Debt Collector Reloaded is the same way, but it's high-powered. It's hitting harder. What I plan on doing at the concert is taking people on a trip from the first Debt Collector into The Debt Collector Reloaded. I think people are going to enjoy that."
You can hear those songs, new and old, when Big Gov performs at the Magic Stick this weekend. Interestingly, he'll be up there with a live band, something he's never done before. The live factor will only enhance the already pumping Big Gov live experience.
"You get energy, and you get honesty — a lot of artists pre-record their shows," he says. "I'm honestly going to come out and perform live, even if I go hoarse in the middle of the show. You know that I'm giving it my all and you're getting the real me. I'm not cheating you. We're gonna have a good time. I want to make people feel like they're a part of the show and not just sitting there watching the show. There'll be a lot of crowd participation going on, live instrumentation, surprise guests might come out. I've got a few things up my sleeve."
Of course, when the show's over, Gov will be back on the assembly line on Monday, kicking out car parts and lyrics at the same time. He has a few other plans too. "More shows, more music, more videos," he says. "I'm shooting a video this weekend in a park in my old neighborhood in Southwest Detroit. I'm throwing a picnic/video shoot. The picnic is for me to give back to the neighborhood. Free food, bouncers for the kids, things like that. It's a video for the 'You Already Know' single. That's the single that's been getting played like crazy on radio lately. I'm going to keep pushing, putting out quality artists. We've got a lot of things in the future to keep our consistency up. We won't sit back and let the momentum die."
Big Gov plays with the Black Guvernment Gang, Tone Tone, and more at 8 p.m. on Friday, July 18 at the Magic Stick, 4120 Woodward Ave., Detroit; 313-833-9700; $10-$15.