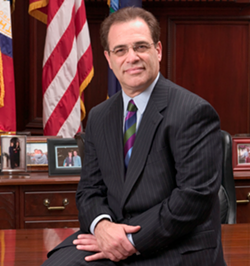 If a poll released last week offers any indication of how the Aug. 5 primary election will pan out, current Wayne County Executive Bob Ficano has reason to worry.
According to a poll obtained by Fox 2, Ficano, who's seeking a third term, finished in fourth place — behind former Detroit Police Chief Warren Evans, Westland Mayor Bill Wild, and Wayne County Commissioner Phil Cavanagh. The poll, by Strategic Solutions LLC, showed 6.7 percent of respondents said they'd vote for Ficano, which isn't bad! Big Bob finished ahead of County Commissioner Kevin McNamara (who came in at No. 6) and someone literally described as "a candidate not named here," who polled at No. 5.
If you happen to be "a candidate not named here," drop News Hits a line. We'd love to hear about your campaign tactics.