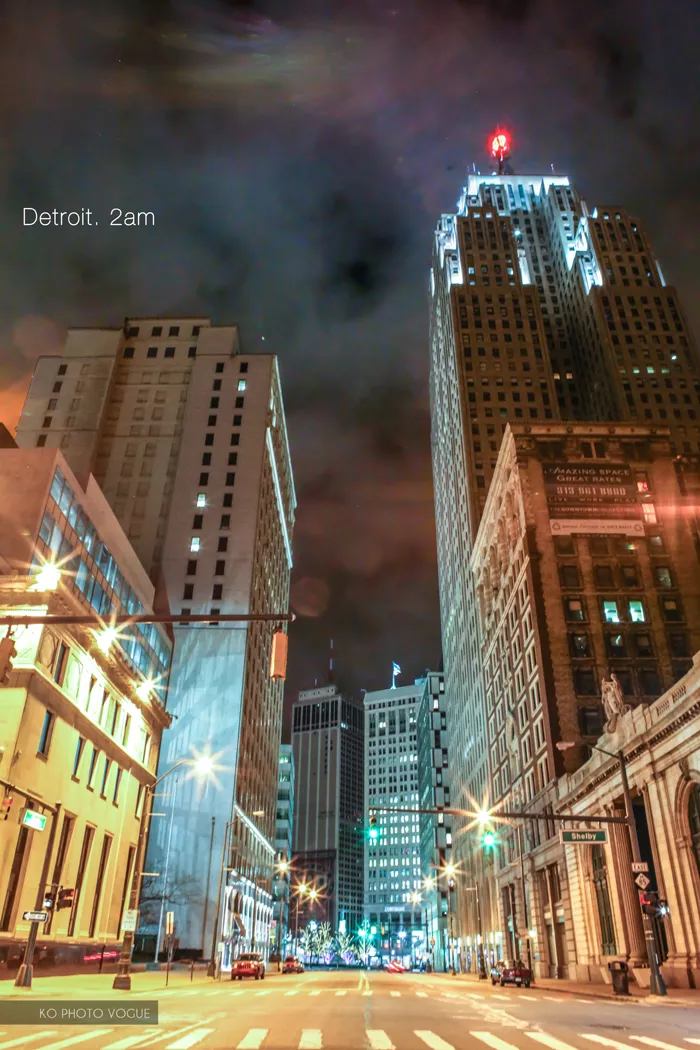 The trend of Detroit photography to focus on decay is well-documented. If the fancy struck you, there's no shortage of coffee table books and framed prints dedicated to the subject available with just the click of a mouse. Photographer Amin Beydoun admits he finds those photos beautiful in their own right, but set out to catch a decidedly different side of the city with his own work.
Since March 2012, Beydoun has been shooting what he calls the Detroit 2 a.m. series. Though the shots are taken at night, Beydoun uses a long exposure, which lets lots of light flow in, bathing his cityscapes in color. The result is a slick series of work with an ethereal, yet lively vibe.
Beydoun says his photos have caused even ardent Detroiters to see their city in a different way. "One of the most rewarding things that [has come] from this particular series is people telling me they didn't know how beautiful Detroit was," he says.
He sells prints on metallic canvas, which further enhances the luminosity of his shots. As he pursued the series, he found a receptive audience in people who wanted to show pride for their city by hanging a print of their city's iconic skyline. "I think whether it's music within Michigan, or making people understand how awesome our state and the city of Detroit is, [the skyline] is where the inspiration comes from," he says.
"The city is alive at night, when people are leaving the bars," he says of his decision to call the series Detroit 2 a.m. Beydoun admits he doesn't literally click the shutter release right at 1:59 a.m., though. "I'm not going to lie, I [thought about it]," he says. "That would be very limiting, though."
Beydoun says he does minimal enhancements to his photos. "I'll do color enhancements, I'll do enhancements to the stars," he says. "If you see a weird color, that weird color actually exists. But what I do is I enhance it, so the photo can do more justice to the actual look."
Beydoun isn't always shooting from the streets, though. He also works from a basement studio in his Dearborn Heights home, where he feels free to do more experimental photographic work as well. "I do modeling and head shots and stuff for musical talent," he says. "It's a very comfortable setting, and we have the freedom to get as dirty as we want." Since it's his own space, Beydoun isn't afraid to make a mess in the name of art, and mentions shoots that saw models throwing sand and water for visual effects.
Beydoun also shoots for electronic music website Resident Advisor and Movement Electronic Music Festival production company Paxahau. Like a lot of photographers, he also shoots a lot of weddings. "The weddings do pay the most at this point in time," he says. "But Detroit 2 a.m. is my passion."
Check out a slideshow of shots from Detroit 2 a.m. here, or see more of Amin Beydoun's work at kophotovogue.com.