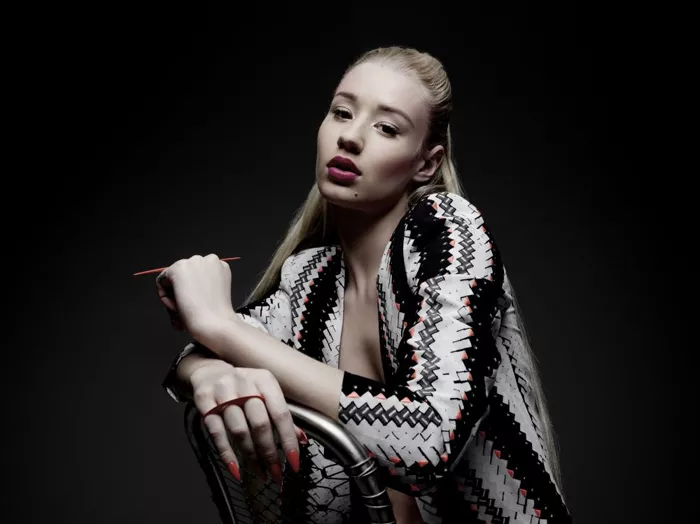 Man, if your name is Iggy and you're going to come play in Detroit, you'd better be ready to bring it. That name carries some weight in this town. Australian rapper Iggy Azalea is not short on confidence though. Indeed, every other picture that we've seen of her online has her grabbing her nether regions with gusto. The long-legged rapper with the long blond hair knows how to attract attention and court controversy. Up to now though, her music has sat on the back-burner.
So now Azalea's coming to the Motor City and you can make your own mind up. Is this Iggy all hype, or is she on to something? Does it even matter? We caught up with her to see if we can get a taste of what she's all about. She's not the chattiest of souls though …
1. Here in Detroit, the name Iggy is usually followed by Pop. Are you a fan?
I suppose so. I don't really listen to rock music, to be honest. I usually listen to hip-hop and dance.
2. You're Australian but you've been in the United States since you were 16 — do you ever go back?
I haven't been back. I still have family over there, but it's a small town, so they prefer to come and visit me here. It's more interesting for them. I have a little brother, so they come and enjoy the theme parks.
3. Have you ever been to Detroit before? You're playing St. Andrew's Hall, which is the home of Detroit hip-hop …
I have never been to Detroit before, but I'm looking forward to it. I think the tickets are selling well. As long as I don't get shot. 8 Mile was filmed there? Should be interesting.
4. What are your plans for the set?
It's going to be mostly songs from my album, The New Classic, and then I'll briefly touch on my mix tapes — two or three songs from the Glory EP, two or three songs from Ignorant Art and TrapGold, but the majority of it is album-focused.
5. You're known for your risqué videos and performances. Your family is a long way away, so is that odd for them?
I don't think so. I think I've always been fairly risqué, that's just the way I am. So I don't think it's strange for them. It's not like it's an alter ego. I've always been like that so it's no surprise. I think the only surprise is that I'm somehow managing to make it my job. I think they get a lot of people coming up to them who have something to say, but my family is pretty cool and wacky. They don't care about it, but other people say things to them in the street. It is a small town and it has that mentality, but my family thinks it's hilarious.
Iggy Azalea plays at 7 p.m. on Saturday, April 26, at St. Andrew's Hall, 431 E. Congress St., Detroit; 313-961-8961; $35.