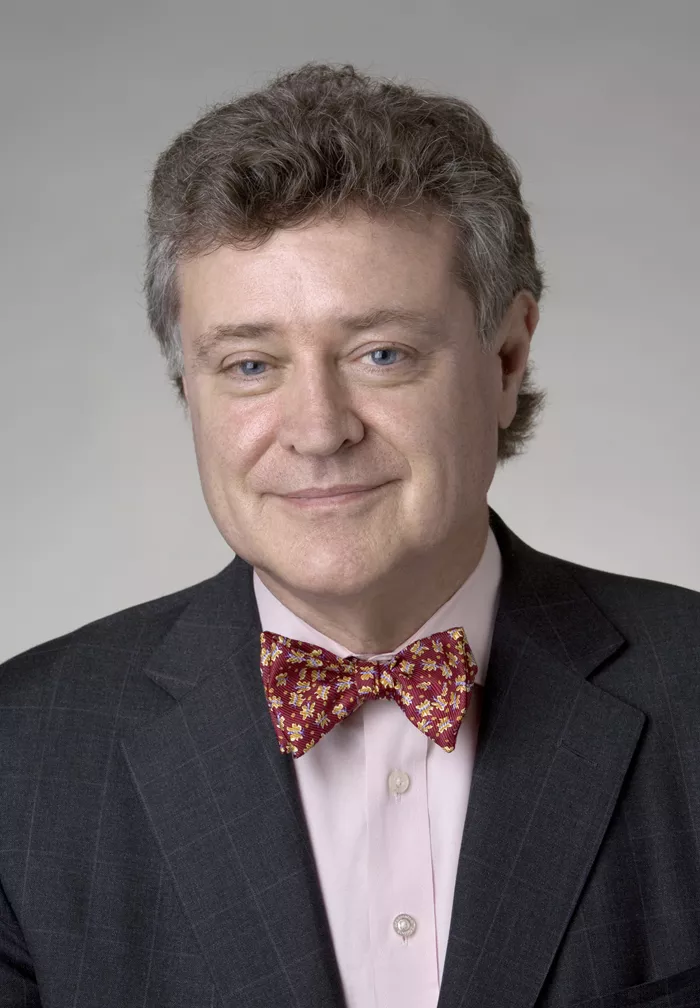 As a Brit with a penchant for bow ties, Detroit Institute of Arts director Graham Beal could easily be written off as a cartoon professor. But since taking the helm of the DIA in 1999, the 66-year-old Beal has made bold strides in making a world-class art museum accessible not only to art geeks, but to everyone. Following a grand reopening and expansion in 2006, the DIA has ditched much of the pretentious art history jargon that can make museums seem so inaccessible to Joe Sixpack.

The DIA's art is now arranged by broad themes instead of historic or stylistic subgenres, and many exhibits employ video, interactive displays, and auxiliary cell phone content to further engage museum visitors. In 2012, Beal successfully campaigned for a millage for Wayne, Oakland, and Macomb counties to fund the museum and grant residents of those counties free admission to the museum for the next 10 years.

With the DIA in the news lately amid Detroit's bankruptcy woes and the threats of selling its art to appease the city's creditors, we thought it would be a good time to check in with Beal.

Metro Times: You came to Detroit in 1999 following a stint working as director of the Los Angeles County Museum of Art. What made you leave L.A. for Detroit? Was there the narrative of rebirth back then?

Graham Beal: Well, without wishing to sound cynical, people have been talking about the rebirth of Detroit since the late '70s — some of us can't stand to use the word "renaissance" anymore outside the context of Italy. In 1999, things were looking pretty good. The economy, as it was in many places, was doing very well. The private arm of the museum had just negotiated a 20-year agreement, whereby it would run the museum on behalf of the city.
I came personally because this is one of the country's — if not the world's — greatest art collections. I had some personal ideas that I wanted to pursue, and somewhat hubristically thought it would be good to do them with a collection where you couldn't be accused of doing things differently because you were too weak to do them the traditional way.
MT: What were some of those ideas you had when you first came to Detroit?
GB: It was basically the notion that we had been presenting art from an academic and intellectual background, the old art historical connoisseurship framework, which was inimical to most people. We were basically installing for a fraction of a percentage point of the country, and hoping that somehow we could translate that meaningfully to the rest of the population.
MT: The DIA has been in the headlines a lot lately because of the Detroit bankruptcy, and Kevyn Orr having the collection appraised for sale. Can you speak about where you think things are heading?
GB: I can't, because no one knows.
MT: Are the DIA's origins pretty different from most art museums?
GB: No, not really. It started, as many other art museums did in the last quarter of the 19th century, by a group of wealthy citizens, almost always men, who decided that their new booming industrial city wouldn't be worth anything if it didn't have an art museum to call its own. So you got this explosion of museums across the country. Most museums thought of themselves as being like the MET. The MET was modeled on the Louvre, the European model, and wealthy people gave art and gave money to build up collections in as many areas as was thought to be respectible.
We are different in that after 35 years of working as a private instituion with the enormous wealth that was being created in Detroit in the late teens, the museum founders decided it would be good — they had been getting support from city tax funds, but the way they were doing it was declared to be unconstitional. So, rather than as other museums like Chicago and Minneapolis did was to go to some kind of millage as part of the park system or that kind of thing, they decided to make the museum into a city department so that it could get city funds. And in 1919 that seemed like a very, very good idea because the city was booming and private funds were raised to help build a new museum. A new museum opened in 1927, and then of course, that all fell apart in a way in the '30s.
And so the museum went into it's boom-bust cycle that it's shared with the auto industries ever since. There museum actually closed for a month in 1975 following the loss of city funding, so there's been these crises in the '30s, and then in the '70s, and then in the '90s. No one, in any of those crises — because the climate was very different— ever even remotely suggested selling art. This is a phenomenon that's occured now because of all the headlines, year in and year out, of the absurd prices of a small group of very wealthy people are willing to pay. To a lot of people, it's like, it's there, why don't you sell some? That's what we heard when we went out to resstablish our business model as we did by getting a tax passed a couple of years ago dedicated to supporteing the DIA. Our theory there was we would get taxes for ten years and that would allow us to use our quite formidable fundraising abilities to build a large endowment and permanently change our business model to be one more like Cleveland and Toledo and Indianoplis where 70 to 75% of the operating funds each year come from an endowment. That's where we're still aiming to go.
MT: The DIA was also in the news this year with the Diego Rivera murals being designated as a National Historic Landmark. Was that a surprise?
GB: It was a surprise in the sense that it's a bit like the bankruptcy situation where the city, in theory, owns the art. Because of that, somebody in the National Park Service — without talking to us — went to the City Council and got a resolution passed about which we knew nothing until I got a call from people in Washington telling me this was happening. I know from previous experience that these designations can come with real restrictions. I wanted to find out what those restrictions were, but I was told, "Too bad, you don't have any standing. Get used to it."
But as I said in my most recent newsletter to the members, many of us have always regarded it as a national monument — whatever the official designation may or may not be.
MT: It's ironic, because those murals were once highly conrtroversial.
GB: They were, but they were also very well-recieved. The media got hold of the controversy, which they wanted to make as much noise about as possible, but there were a lot of people who thought it was fantastic.
MT: That all somewhat tidily coincides with the big Diego Rivera and Frida Kahlo exhibition the DIA has planned for 2015. Was that happenstance?
GB: It was my idea, a number of years ago. I don't often claim ideas for exhibitions, but in this case it's true. There were so many wonderful — but more often than not, inaccurate — stories [about Rivera and the DIA murals] that I hear, and I was actually telling some of them before I did more research. It seemed like a good idea to do an exhibition focusing on the life and activities of Diego and Frida in the year that they were here and all of the things that went on around them.
MT: How did you get involved in art academia originally?
GB: I wanted to be a painter. In Britain you're forced to specialize very early, and I applied [to] five [universities] that had studio courses and one that didn't. The one that didn't was the best of the six universities. As it happened, I put them last, and they were the only one that accepted me. I didn't think that way at the time, but I can take a hint as well as anybody. So I became an art historian.
MT: You're known for your fashion sense, which includes your signature bow ties. How long have you been into them?
GB: Since I was about 15. There was kind of a dandy movement in Britain at the same time as there were hippies. Some of us wore frock coats and floppy bow ties. It was kind of a smart, scruffy, arty look. I used to wear scarves rather than ties, scarves tied in a bow. It was a definite look in the '60s and '70s. Some of my friends made fun of me, caring as much as I do about clothes.
MT: You must have quite a collection at this point.
GB: I do. I've probably got 50 or 60 bow ties.
MT: Is there anything else you think Metro Times readers should know about the DIA?
GB: We're free to anyone who lives in the three-county area. We're open until 10 p.m. on Fridays, and we have great music and performances. When you come here on a Friday, you really feel that you're seeing the full scope of our visitation — all ages, ethnicities. I find it quite heartwarming.
[Update June 4,2014 1:45 p.m. — An earlier version of this story stated that the museum made a big deal about the Diego controversy, not the media.]